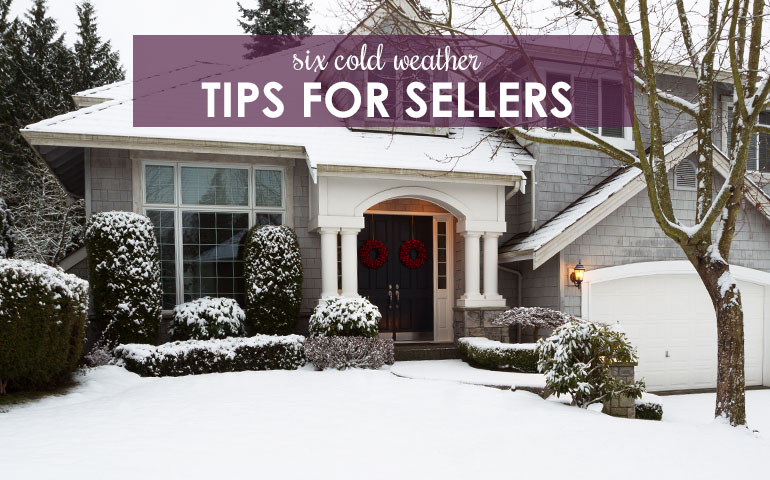 Six Cold Weather Tips for Home Sellers
With so much focus on the holidays during this time of year, it can be easy to lose sight of some regular maintenance tasks around your home. However, if your home is on the market during these colder months, you might not have the luxury of letting things go around your home.
So, if you've listed your home while you're working to complete your holiday gift list, here are a few reminders to help with your cold weather sale:
1. Don't let your listing photos date you.
Many people enjoy the sights of freshly fallen snow. But when it's cold outside, buyers probably do not need to be reminded of the additional home maintenance that shoveling, snow-blowing and deicing can bring. Instead of using a snowy backdrop for your listing photos, keep them a bit more timeless by choosing a snow-free day to take the photos that will showcase your home while it's on the market.
2. Keep walkways clear—no exceptions!
When you know that buyers will be coming to see your home, it doesn't matter if it is the season's first snow or the 15th, sellers must be diligent about removing snow and ice from their driveways, sidewalks and front door. These are the pathways that lead buyers to your home. Show them how glad you are that they're there by keeping all walkways clear the entire time your home is listed.
3. Give buyers a warm escape from the cold.
After you safely usher buyers into your home, enhance their experience with a warm environment. Give them somewhere to hang their cold weather gear, but make sure your home's temperature is set to keep them comfortable while they browse around. Keeping your home cozy is a great way to help buyers' memories of cold weather—well, melt away!
4. Embrace seasonal flavors.
Perks like less competition and more serious buyers are not the only things that can work in your favor during cold weather home sales. The cold weather season also can cater to a buyer's favorite tastes. Impress your prospective buyers by offering hot chocolate, warm cider or even seasonal cookies. Who doesn't love a sweet treat—in cold weather or any other time of the year!
5. Show off your home's efficiency.
Cold, windy days can make it miserable to be outside. This gives home sellers another opportunity to showcase one of their home's best features… efficiency! When buyers enter your comfortable home, they'll surely check to make sure that no drafts are entering through your windows and doors. If you've installed energy-efficient items, like a smart thermostat or LED lighting that can help regulate your energy costs, let those items shine to prospective buyers too. They could help your home stand out over any others that are listed during cold months.
6. Set subtle reminders of warmer seasons.
Finally, if you're selling your home during cold weather and you've tried everything you can to capitalize on the season's best aspects, it is OK to cave in and remind your buyers of warmer times. Set out some live plants or flowers to bring a fresh feel to your home during winter. Buyers may appreciate the breath of fresh air – the live plants – and the edge your home has over others during cold weather!
Ready to list your home this winter? Let us help. Contact a trusted Berkshire Hathaway HomeServices The Preferred Realty professional to help sell your home today.