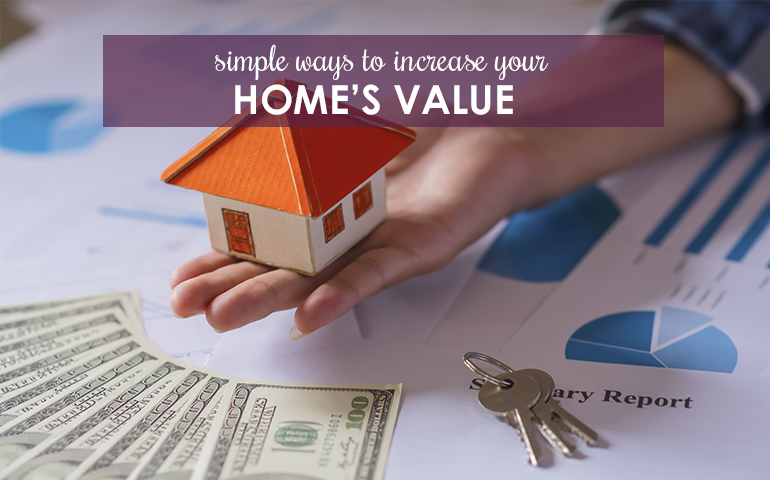 Easy Ways to Improve Your Home's Value This Summer
You've probably already seen back-to-school displays in stores. You may even be feeling a little sad because the end of summer is in sight. But that doesn't mean there is no time left for a few summer projects around your home. In fact, there are some simple things you can do to your home to add some value, particularly if you're planning to sell anytime soon.

If you have the renovation bug or just want to increase your home's value, here are three places to start this summer:

1. Observe the Outside
The first thing buyers notice is the outside of your home, right? Make sure you're giving them a long-lasting good impression:

Improve curb appeal
Adding new shrubs or seasonal flowers is a great way to add instant appeal to your property. But if you don't want to make an investment in new greenery, make sure you maintain what you've got. Keep your lawn mowed and shrubs trimmed. Your home will always look fresh and fabulous!

Get a new mailbox
If you've had the same mailbox for a while or you live in a development where all mailboxes are the same, you could add a new touch to your home by refreshing yours. The small pop of newness may attract the eye of the right buyer when you go to list.

Paint the front door
Speaking of small pops of newness and color, refreshing the look of your front door could give your home some fresh perspective. Simply repaint your door to make it look new or change the color to give your home an entirely new look.

2. Invest in the Interior
Once you've tackled your home's outer appearance, move the renovation party indoors. There are a few easy ways to give your home new appeal without too much work:

Paint some more
If you like the way a little paint can freshen up your front door, you should apply it to any walls you feel are looking a little drab inside too. You could give your kitchen a mini makeover by simply switching out the paint color. Apply this rule in every room and you could totally transform your home.

Change cabinet hardware
Maybe you've never added hardware to your cabinets. Maybe you've had the same hardware for a number of years. Switching out the hardware in your kitchen and bathrooms can make your home instantly more appealing to prospective buyers. These little touches can stick out for good reason.

Update lighting fixtures
Outdated lighting can cast a dark shadow and a poor impression on a great home. Making a small investment in new lighting fixtures is a great way to add a touch of style and value to your home. Further, increase that long-lasting value by investing in LED bulbs. You'll save energy and money for years to come!

3. Stay on Top of Homeowner Tasks
Sometimes increasing your home's value is as easy as keeping up with home maintenance and repairs:

Get an inspection
This is a particularly good tip for homeowners who are planning to sell. Having a home inspector walk through your home to seek out any possible faults is a great way to make sure your home stays in great condition. If the inspector identifies any major problem areas, be proactive and address them immediately.

Make needed repairs
In addition to handling any major problems a home inspector may point out, you can also make little repairs around your home on a regular basis. Note the condition of your tile grout or the caulking around your bathtubs. If it is dark, dingy or peeling, take the initiative and replace it.

Handle home maintenance
Don't think you need to go around your home looking for potential repairs. Sometimes simply keeping up with home maintenance is enough to help your home maintain great value. So, regularly pay attention to your home's heating and cooling system, chimney and other major systems. Give them proper attention to make them last.

Small changes can make a big difference in your home in no time at all. Give your home's value a lift this summer by focusing on these three areas—whether you plan to sell or not!