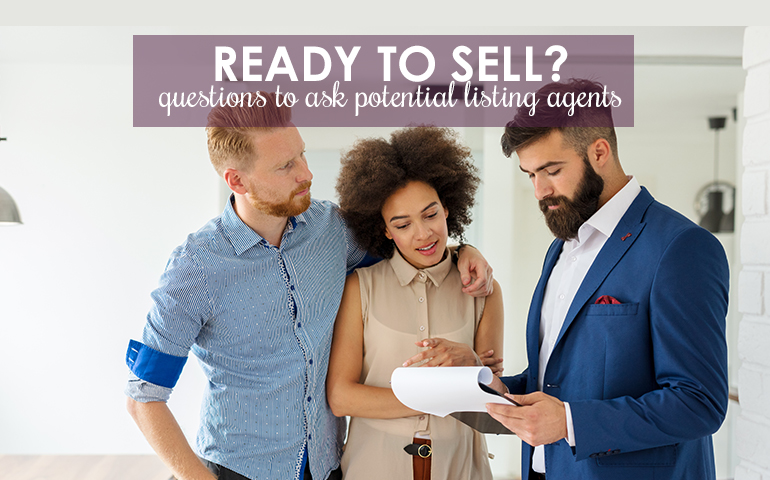 Ready to Sell? Ask Listing Agents These Five Questions First!
In a hot real estate market, it can seem that as soon as a "for sale" sign goes up in someone's yard, the home is immediately under contract. If you're planning to sell your home, you may be wondering how you can make that sight a reality in your very own yard. Well, it all can start with finding the right real estate agent.
Some sellers find a real estate agent by listening to advice or referrals from friends and family members. Some may do a little research and pick an agent who has sold a lot of homes in their area. However, it may take a little more work for you to find the right real estate agent. In fact, you may want to interview a few agents before deciding who should is best to help you market your home. To get that interview process started, here are five great questions every seller should ask their potential real estate agent:
1. How do you plan to market my home?
In today's real estate market, that "for sale" sign in the front yard is simply not enough to close the deal. A one-day open house may not do it either. Today's real estate agents need to do anything and everything they can to get the word out about available listings. Of course, your home will be listed in the Multiple Listing Service or MLS, which is a resource that every real estate agent uses to help their buyers find homes. You also want to make sure that your real estate agent will spread the word about your home in different ways. Traditional media like newspapers or other advertising venues may be effective, but social media is now a great tool for getting the word out about listings, too. Make sure the real estate agent you choose has a marketing plan in place for your home.
2. Can I talk to some of your clients?
Any real estate agent that wants to work with you should be happy to share a list of previous clients. In this industry, sometimes word-of-mouth referrals are the best way to gain new clients. Many agents may have a list of clients ready to sing their praises. Be sure to ask for that list, but take it one step further. Reach out to those contacts! Hearing about other successful sales may help give you peace of mind as you head into your sales process.
3.How will you help me set a price for my home?
This is a great question to ask listing agents because they should immediately know how to answer it! A professional real estate agent will perform a comparative market analysis for you. This comparison includes the prices of similar homes that have recently sold in or around your neighborhood. Knowing this information will give you a great baseline for pricing your home. If an agent is not able to provide you with a comparative market analysis, you could run the risk of setting the wrong price for your home from the start.
4. How will you communicate with me?
In today's real estate market, your real estate agent may communicate with you in a variety of ways. Frankly, one of those ways should cater to the way you like to communicate. Phone calls and emails sometimes are not enough. A quick text message when you have a showing may be the kind of communication that works best for you. Find out how your agent will try to get in touch with you so you don't miss any important information about your home sale.
5. How long will it take to sell my home?
This may be a trick question for many real estate agents. Why? There is no answer. While a real estate agent may be able to give you a potential range of time that it may take to sell a home like yours, every seller's story is different. There is just no way to predict how long the sale of your home could take. Don't expect your agent to answer this question, but do expect them to be able to give you a range and comfortably prepare you for what could be a very long—or very short—sales process.
Having the answers to these five questions will give you a great start when it comes to finding the right real estate agent to help you sell your home. However, as you're talking with agents, you may find one that just feels right to you. If that's the case, be sure to ask all your questions, but don't be afraid to go with that gut feeling!
Get your home sale process started now. Talk to a Berkshire Hathaway HomeServices The Preferred Realty agent who will be happy to answer your questions today.