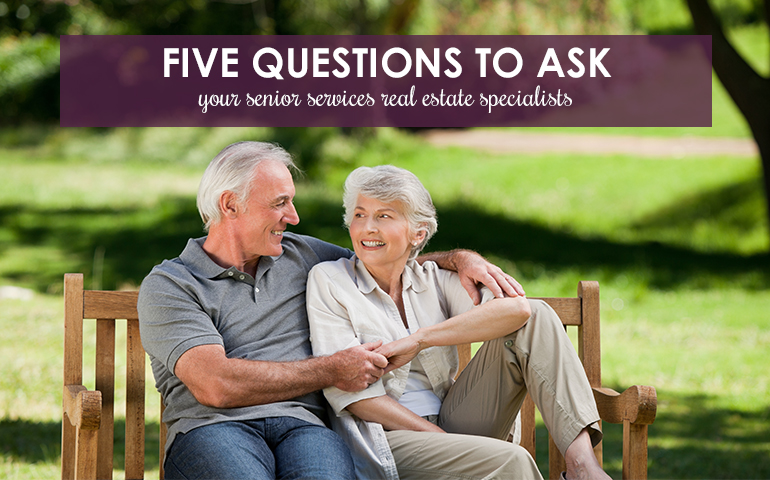 Five Questions to Ask Your Senior Services Real Estate Specialists
When you reach a time in your life that you're ready to downsize from a large home into a smaller space, it can be beneficial to work with a real estate agent who specializes in senior services. But, to make sure you get the help you need in selling or buying a new home during this new time in your life, you should have a few questions prepared.

Here are five top questions to ask potential senior services real estate specialists:

1. How many older adults have you worked with?
Buying or selling a home can be a stressful, emotional situation for anyone. For seniors, who have lived in their homes for much of their lives, this time can be especially hard. Knowing that a real estate agent has worked with many other buyers and sellers in similar situations can offer needed peace of mind and comfort during what is certain to be a difficult experience for a senior. Don't be afraid to find out how much experience your senior services real estate specialist has before moving forward with your transaction.

2. Can I talk with some of your previous clients?
In addition to finding out how many older adults your potential senior services real estate agent has worked with, you also want to find out how your agent worked with those clients. Ask potential agents if you can speak to some of their previous clients. They likely will have a list of references who can give a good account of their work. This is a great way to make sure your agent will be able to best represent your needs.

3. What will you do to help me buy or sell my home?
Many buyers and sellers rely on their real estate agents for a number of services, including helping with a potential home search, marketing a current home and negotiating on pricing. Some seniors may need help with these aspects and more when it comes to making a real estate transaction. Find out how a potential agent plans to market your home, help you find another one or take you to the closing table no matter what side of the transaction you're on.

4. How will you communicate with me?
In today's real estate market, it is common for agents to communicate with buyers and sellers via email, text message or even through social media. However, these modern communication methods are not always the easiest nor the most preferred methods for senior buyers and sellers. Find out up front how your real estate agent plans to get in touch with you about available homes, offers, and other important information.

5. Can you recommend lawyers, inspectors, lenders or other service professionals I should work with?
It is widely known that most real estate agents have a network of preferred professional specialists. These contractors, inspectors, lenders and others can offer an agent's clients the help they need—and agents trust their service professionals, so they can feel confident in recommending their services. However, just because an agent has a preferred contractor does not mean that the contractor is great at working with seniors. Be specific when you ask this question of your agent—find out if he or she can help you find other professionals that are accustomed to catering to a senior's needs during the real estate process.

If you're looking for a senior services real estate specialist, let us help. Find a qualified, trustworthy agent with Berkshire Hathaway HomeServices The Preferred Realty and get started with your next home sale or purchase today.