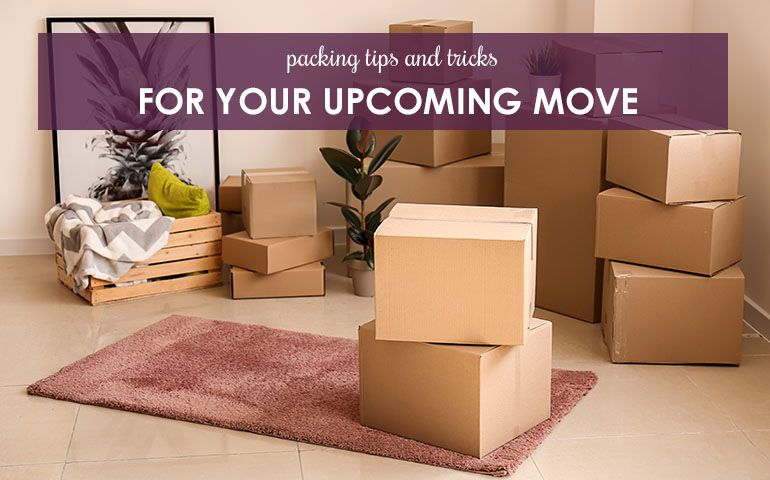 Packing Tips and Tricks For Your Upcoming Move
Have you been putting off packing up your home for your upcoming move? Moving can become a little stressful and overwhelming, but with the right planning and preparation, it should be a seamless process. Check out the best packing tips and tricks below!
Declutter
Moving into a new space is the perfect reason to get rid of items you no longer use. We're not just talking about your wardrobe, either. In addition to throwing out that pair of jeans you haven't worn in years, it also is time to get rid of things like old toys, books or outdated electronics that you certainly do not use, but have been hanging onto for one reason or another. Instead of moving unused and unwanted items into a new home, sell or donate them. You'll have less to pack, move, unpack, and put away!
After you decide what you want to keep vs. what you want to get rid of, start thinking about hosting a yard sale. You can use the money you make to cover some of your moving costs!
Make a List
Making a packing list is super helpful when it comes to moving and staying organized. After you declutter your home, go through each room, and make a list of what you will want to pack in boxes vs. what you want to be left out. Then once you start packing, make another list of what is inside each box! This will ensure that you know where all your belongings are and will be organized when you get to your new space.
Another great idea is to color-code your boxes when you pack. For example, use orange duct tape for your future family room, blue duct tape for your future kitchen, etc. Select a different color of duct tape for each room in your new home. You can even put a color-coded chart on your new front door. This way, when you and any helpers are moving boxes around your new home you can make sure they are all placed in the right spot!
Plan Ahead
Start thinking about how big your space is and how much you need to pack. You will want to get a good idea of how much time packing will take you so you can get organized and plan ahead! One of the worst packing mistakes you can make is waiting until the last minute to pack all your belongings! The best strategy is to pack for a few hours each day until the arrival of the moving truck. This way you'll be able to keep your concentration at a maximum level while having your current living space uncluttered.
When you are packing up your belongings, plan to pack your essentials last! Packing an essentials bag is a great idea. This should bag should be last on the moving truck and the first thing unpacked. If you have kids encourage them to choose a few favorite toys to be part of those boxes and pack the rest early!
Purchase Your Packing Materials
Once you get into the swing of packing, you won't want to run out of boxes, bubble wrap, or paper. Before you start the process, make sure you go to your closest home improvement store to stock up on all your packing materials! You will want to get a couple of different sized boxes to avoid overpacking your boxes. One mistake a lot of people make when moving is trying to cram all of their belongings into a few cardboard boxes they have around the house. Use as many boxes as you need to create easy-to-lift loads. Keep your largest boxes to no more than 50 pounds.
Packing can be overwhelming, but with the right amount of planning it should be a stress-free process! With these few packing tips, we hope we can help your move be a seamless process!