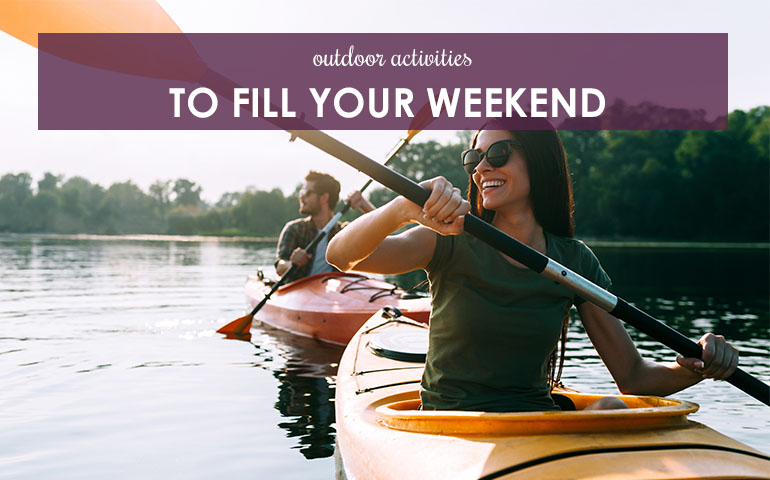 Outdoor Activities To Fill Your Weekend
During this time, our weekends are seeming to run into the weekdays without much excitement. If you are like us, looking for activities to do is becoming a bit of a challenge. No worries, now that it is warming up there are plenty of outdoor activities that will make for an enjoyable weekend!
Run a "Race"
The virtual Pittsburgh Marathon was this weekend, and if you didn't get to participate already, it's not too late! This coming weekend would be a great time to hit the pavement and get those miles in! If you are not participating in the Pittsburgh Marathon, it would be a fun idea to create your own "race". Whether you want to do a 5K, half marathon or even a mile run, get a course in mind and run it with friends or family, six feet apart, of course. Tip: Download the Nike Training App to track your mileage and keep track of all your workouts!
You could tell your family members and they could even have a makeshift finish line and medal for you waiting at the end!
Go Kayaking
Kayaking is a fun weekend activity that you can safely participate in while social distancing. There are a ton of great lakes around the Pittsburgh area that would be a great way to spend the day at. North Park Lake is a great place to spend the afternoon, you can even get takeout from Over The Bar Cafe after a long day on the lake!
Camp in Your Backyard
This weekend, create the ultimate camping experience in your own backyard! Pitch a tent, grab your sleeping bag, and enjoy being outdoors! You won't want to forget your s'mores ingredients and some wood for a bonfire!
Recreate the Drive-In Theater
This weekend, try recreating the drive-in movie theater! Though you've likely seen elaborate backyard movie theater setups, it doesn't have to be complicated: All you need is a white sheet that can be tautly mounted on a flat surface, a projector and your phone to play movies, TV shows or whatever else you're binging these days. For an easy step-by-step tutorial, check out this post! Throw some pillows in the back of your car and bring snacks to enjoy your movie just like you were at the Drive-in!
Have a Neighborhood Scavenger Hunt
Take a walk or drive around the neighborhood and look out for certain landmarks—a colorful front door, a bicycle, a basketball hoop. Have the kids check these items off a neighborhood scavenger hunt list (just be sure to practice social distancing).
Host a Corn Hole Tournament
Break out the cornhole set for a family tournament. This game was practically invented with social distancing in mind! This would be the perfect opportunity for some friendly family competition and a great time. After the tournament, throw some hotdogs or hamburgers on the grill and enjoy each other's company!
Whether you are a runner, looking for the thrill of a race or you just want to enjoy a movie on the patio, there are options for you! Now that the nice weather is here to stay, the options outdoor activities and a fun weekend are endless!