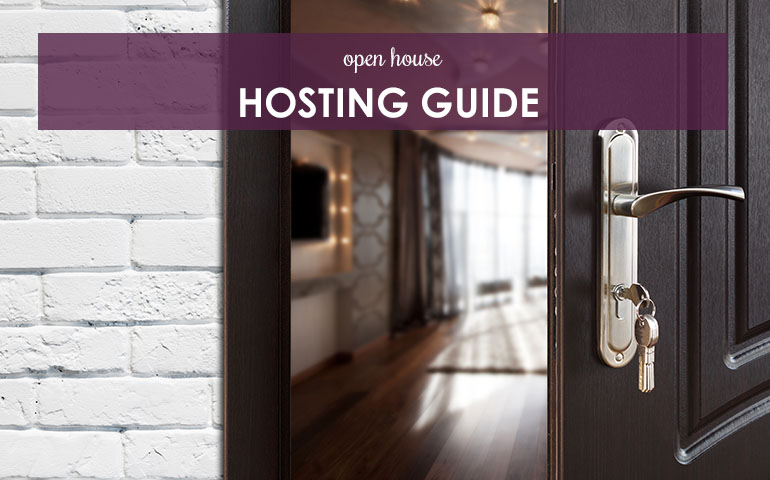 Open House Hosting Guide
Open houses are a great way to show off your home and attract prospective buyers! Preparing the house and property for visitors takes a little time, but welcoming potential buyers with a little hospitality goes a long way toward making a sale. Make a checklist and work the plan, so you don't leave anything out!
Clean Up Your Curb Appeal
Curb appeal is the beginning of the open house tour. Prospective home buyers are judging your home from the minute you pull up, this is why the first impression of your home is so important! Mow, water, fertilize, and weed your lawn weeks before, or hire a lawn care service. Because your yard is the first thing people see, you will want to make sure to trim all bushes and trees, so they don't block windows. Plant native flowers or place floral containers on the front step. Remove weeds from shrubbery beds. Spruce up the place by staining shutters and handrails, replacing the mailbox and old light fixtures, and painting the front door. In fact, a black door can add as much as $6,000 in value to the selling price.
You will also want to consider parking options for the day of your open house. Adequate parking is a plus: If you normally park your vehicle in the driveway, move it to the street or consider asking a neighbor if you can direct traffic to their driveway.
Make the Inside of Your Home Shine
Before your open house, clean the house and remove the clutter. That sounds simple but too much dust and debris won't allow the buyer to envision his or her own items in place. Polish wood surfaces, shine up metal accents, open the blinds and windows, turn on lamps and overhead lights. It's also a good idea to remove all valuables from the house.
Here are a few other tasks that should be considered before an open house:
Have the carpeting professionally cleaned.

Clean off the kitchen countertops and appliances.

Clean out closets and move some items out of the house completely. The less cluttered it looks, the bigger it will seem to buyers. Remove collectibles, excess furniture, artwork, and personal photographs.

Clean the fireplace.

Dust the walls and remove hard-to-see cobwebs from corners. They may be nearly invisible, but you'd be surprised at what can accumulate in these areas.
Leave Your House!
This might be common sense, but make sure to leave your house and block out a few hours in your schedule to be away during your open house. This is a perfect time for you to look at homes or even do something fun with your family for the day!
You will also want to think about your pets during this time. With your home in tip-top shape before an open house, you're going to want to keep it that way. If you have pets, you know this can be quite the task. During showings—and certainly during an open house—find a friend or relative who may be able to show your pets a little extra love. Try going for a hike or to your local dog park for something fun! They won't suffer the anxiety of strangers strolling through the house and you'll have an easier time keeping the place clean for prospective buyers.

Now that your home is open house ready, all you need to do is sit back and trust your real estate agent! Homes are flying off the market right now and with these few extra tips, your home will be sure to shine!