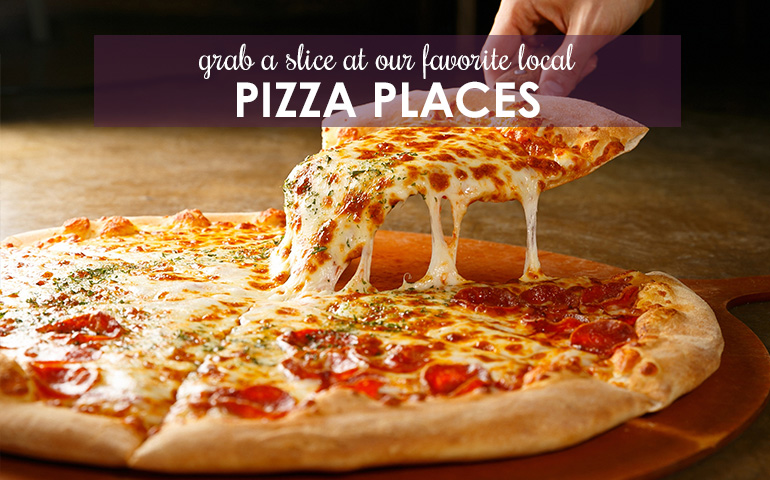 National Pizza Month - Our Favorite Pizza in Pittsburgh
Step aside pumpkin spice, October is all about pizza. Seriously, October is National Pizza Month!
From thin crusts to extra cheese, we're digging up some of the best pizzerias in Pittsburgh. Now, it's no secret that Western Pennsylvania is packed full of pizza parlors, so in order to narrow down the best of the best, we've asked a few of our agents and employees to share their favorites.
To kick off our list, we turned to our CEO/owner, Ron Croushore, who raves about Aviva Brick Oven Pizza in Warrendale. What sets this apart from other Pittsburgh pizzerias? Their pizza is cooked in a traditional wood-burning brick oven that gives it an authentic Italian flavor. Realtor Necole Moffa also names Aviva as her favorite and suggests the Margherita pizza which features house-made mozzarella, a signature red sauce, fresh basil and seasoned oil.
We're headed over to Squirrel Hill for our next fan favorite. Kathy Ballou, Richard Hinish and Shanna Chotiner all recommend Aiello's Pizza on Murray Ave. A slightly sweet homemade sauce atop a crispy crust then topped with fresh ingredients has made this family-owned pizzeria a Pittsburgh hotspot since 1978.
We can't mention Aiello's without also talking about its rival, Mineo's Pizza. How serious is this pizza playoff? Let's just say there's Facebook group entitled "Mineo's or Aiello's?" Being only six doors away isn't the only reason why Mineo's Pizza gives Aiello's Pizza a run for its money. Mineo's Pizza offers a thick crust and lots of cheese… we're talking A LOT of cheese! Our East Regional Manager, Pam Sovich, says no matter what type of pizza you order here it will be excellent!
Now onto a pizza that every Pittsburgher is bound to hear about… Beto's Pizza on Banksville Road. Lauren Kaolgeris, Matt Dallas, Cindy Pierce, Eileen Allan and Leah Winchel all recommend this self-proclaimed "Pizza like no other!" So, what makes this pizza different? Well, it's not sold by the whole pie, but rather by the cut. But, more unique, it's finished with cold cheese and toppings!
Another popular Pittsburgh pizzeria, Fiori's pizza, is located just a few miles away in Brookline. Recommended by Barbara Baker, Kris Marra, Amanda Dickens, Richard Hinish, and Lauren Kaolgeris, this slice offers a crispy, yet chewy crust, sweet homemade sauce and lots of delicious cheese!
For those pizza lovers who have a serious sweet tooth, you must make a visit to Joio's Family Restaurant in Greensburg. Recommended by Melissa Shipley and Adam Valeriano, this incredibly unique pizza is made with sweet, pastry-like dough… giving a whole new meaning to pizza pie!
Our next pizza pick can be found on Broad Street in Sewickley. According to Liz Fecko, Mambo Italia has incredible wood-fired pizza and a friendly atmosphere. Their top-of-the-line, imported brick oven provides flavors of an authentic Neapolitan pizzeria. Susie Reuter recommends the Margarita pizza.
Now that you're totally craving pizza, check out our other favorites:
Olive Oil Pizza in Bethel Park – Cathy Burkett
Mama Meatballs in Export/Murrysville – Karen Brezarich
Lobinger's Restaurant in Mt. Pleasant – Suzy Weaver
The Boulevard in Greensburg (Order the White Pizza!) – Roxanne Mirabile
Milano's Pizza and Knuckleheads Pizza in Midway (Try the Buffalo Chicken Pizza!) – James White
Monte Cellos in Pine Township – Evan Hunter
Della Sala's Pizza in Penn Hills – Bill Hammill
Spak Brothers Pizza on Penn Ave – Liz Huber
Wood Stoked Oven in Brookline – Molly Keady
Do Wood Pizza in Irwin – Marianne Pack
Gateway Grill in Monroeville (You must try the Pittsburgh Pizza) – Brittanie Schreib and Melinda Litzinger
Cosmo Pizza in Murrysville – Susan Reese Hartzell
A'pizza Baamo in Mt. Lebanon – Magen Bedillion
Harry's Pizza in McMurray (Hawaiian) – Kim Kocher
Serafina's in Bridgeville – Debi Gallagher
Villa Reale in Downtown Pittsburgh – Matthew Modany
Falbo's Pizza in Greensburg – Jonie Daigle
Italian Village Pizza in Belle Vernon – Jody Moebius
Giovanni's Pizza in Downtown Pittsburgh– Jon Gordon
Sam's Pizza in Cannonsburg -- Eileen Allan & Shannon Assad
II Pizzaiolo in Glenshaw – Deborah Dixon
Police Station Pizza in Ambridge – Jan Livingston
Burgh's Pizza and Wings in Bridgeville – Alyssa Rice
Pizza Marsala in Irwin – Kristie Jahromi
Vic's Oven in Bridgewater – Jeanine Dzikiy
Lucinano's Pizza in Cranberry Twp – Mark Stevens, Jamie Dickson & Jess Pollis
Benny Fierro's in the Southside – Kelsey Smith
The Upper Crust Pizza in Fox Chapel – Kristie Forsman
Pizza Shack in Brownwood – Tracy Young
Olives & Peppers in Bakerstown – Deb Arrisher
Luigi's Pizzeria in Bellevue – Tracey Shanko
Did we miss your favorite pizza? Let us know by commenting below!