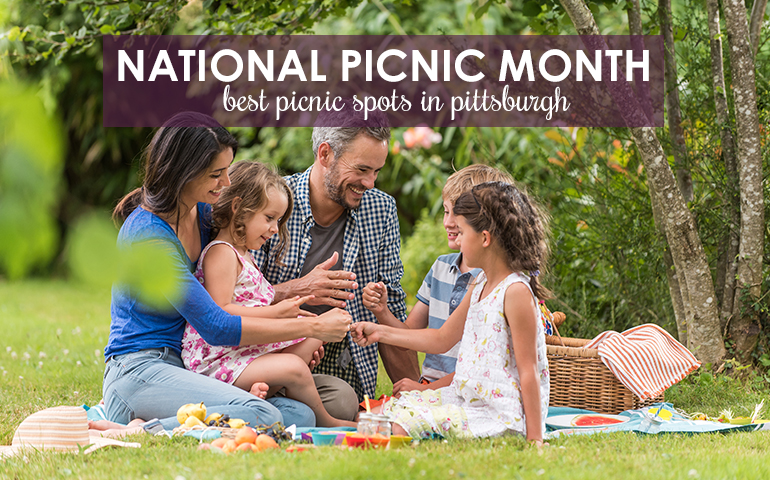 Pack a Lunch and Enjoy National Picnic Month in Pittsburgh
This week, our minds may be filled with thoughts of backyard BBQs and 4th of July fireworks. And rightfully so! But, after this week's sparkling summer celebration is over, there still will be lots more of summer to celebrate. What better way to enjoy a beautiful summer day than by packing a lunch and having a picnic?

Just in time for National Picnic Month, we've scoped out some of the best places in and around Pittsburgh to spread out a blanket and enjoy a picnic with friends, family or your favorite four-legged friend. Here are a few of the best places in Pittsburgh to have a picnic:

Frick Park
Hundreds of acres await you at Pittsburgh's Frick Park. There are plenty of places for you to spread a blanket or plenty of picnic tables for you to use too. After your lunch, you can enjoy the playground, hiking and biking paths or dog park! In fact, if you're taking a picnic to Frick Park, you should probably plan to spend an entire day there!

Grandview Park
When you're talking about views of the city, you simply must mention Mount Washington! That's where you'll find Grandview Park, another excellent spot for a picnic in Pittsburgh. Picnic goers are advised to prepare a few treats that may last them long into the evening. This picnic spot offers one of the best views of the city under the stars!

Highland Park
If beautiful gardens and a reflecting pool don't set the perfect background for a summertime picnic, we're not sure what does! Pittsburgh's Highland Park not only offers these serene sights, but it also offers outdoor activities like swimming, hiking and playing a game of volleyball. For an awesome taste of nature—and whatever you pack in your picnic basket—check out Highland Park for your next picnic.

North Park
Pittsburgh Allison Park suburb houses North Park. With lots of acreages that spans a few townships, this park has plenty of places for the perfect picnic. Plus, the park not only offers hiking trails and playgrounds, but it also offers boating opportunities. So, your packed picnic lunch could turn into a weekend-long adventure!

Point State Park
Looking for a cool place to picnic during hot summer days? Point State Park, which sits on the edge of Pittsburgh's three rivers, is the perfect spot. If you work downtown, you could even go there on your lunch break! While you're taking in the sights of the city around you, enjoy a chilling mist from the park's beautiful fountain too.

Schenley Park
Near the University of Pittsburgh in the city's Oakland neighborhood, Schenley Park is not just a hot spot for university students and staff. There are playgrounds for kids and lots of trails for outdoor activities. You can find an excellent picnic spot with a scenic view of the city. And who says your picnic has to be at lunch? A dinner picnic promises incredible views of Pittsburgh's skyline at night.

Squaw Valley Park
Just outside of Pittsburgh in O'Hara Township, Squaw Valley Park is the perfect place for a fun-filled family picnic. You can take classic family photos around the gazebo, then head over to the expansive play area. The entire family is sure to enjoy this bright spot for a summertime picnic.

When it comes to picnics and even pools, Pittsburgh has got your summertime covered. Be sure to pack a lunch, dinner or just a few snacks and get out to some of these beautiful parks during National Picnic Month!