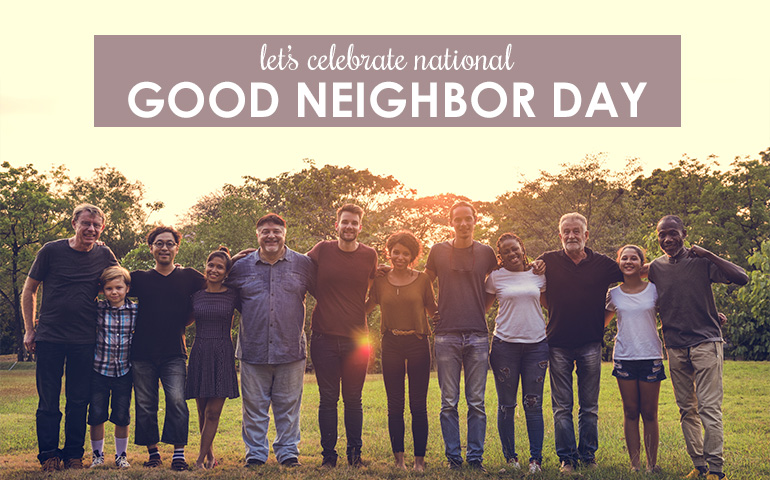 "Howdy Neighbor!" and Other Ways to Be a Good Neighbor
Taking care of your pets while you're on vacation; helping you shovel out from a deep winter snow; or, just being there at the end of a long week with a good listening ear or a glass of wine—There is so much to be said about having good neighbors. Since today is National Good Neighbor Day, we couldn't help but share a few tips on how you can help spread the love to your neighbors. Here are 10 ways that you can celebrate National Good Neighbor Day in your neighborhood:
Do more than introduce yourself. Of course, if you're new to a neighborhood or you have a new neighbor moving in, it is customary to say "hello" and possibly bring over a bottle of wine or quick dinner. But, take an extra step. Continue the communication beyond move-in day. Offer your new neighbors some helpful information like your favorite places to eat, shop or do another type of business.
Remember your neighbors' names. Once you meet someone for the first time, do whatever you can to remember their name. That way, the next time you see them, you can reach out to them by name. If you absolutely cannot remember, ask again. But, this time, commit it to memory and use it every time you see them.
Respect boundaries. Whether you share a wall or a fence line, you need to keep your neighbors' interests in mind when it comes to boundaries. If you have kids, don't let them hang on the mutual fence line you share. If you share a wall, do not yell or play loud music when you know someone may be sleeping next door.
Protect your pets. Just because you couldn't imagine life without your pup, that doesn't mean that even the nicest neighbors would be OK with your dog using their yard as a bathroom or even playground! Take care of your pets—at home and especially around your neighborhood.
Park politely. Sometimes being a good neighbor means being an excellent driver (or parker), too. Take your time when you're driving through your neighborhood. Avoid parking too close to other cars and do not block a neighbor's entrance to their home.
Pay attention to your lawn. With this tip, you'll not only be a good next-door neighbor, but you'll be a good neighbor to everyone in your neighborhood. Doing your part in your own yard makes your neighborhood more appealing—and helps make it safer, too!.
Include your neighbors. If you are hosting a party, barbecue or even if your children are playing in the backyard, try to include your neighbors sometimes. This will help keep lines of communication open and friendly. Don't feel like you always have to invite every neighbor to every event, but try to be friendly and include neighbors if you're hosting something social.
Pay it forward. As silly as it may sound, a simple "thank you" may not always cut it. If your neighbors helped to shovel you out or mowed your grass while you were away for work or vacation, repay the favor! Take a turn removing snow from their driveway this winter.
Return what you borrow. Whether it is a cup of sugar or an air compressor or a paintbrush, if your neighbor is nice enough to lend you something, be nice enough to return it in a timely manner. The last thing you want is for your neighbor to have to knock at your door to ask for an item that they should already have in their home.
Keep the lines of communication open. If an issue comes up with one of your neighbors, keep it civilized and talk to them. Not communicating about potential issues can only lead to further misunderstandings. So, remain good neighbors and communicate!
Are you considering moving to a new neighborhood on this National Good Neighbor Day? Let us help. Contact a trusted Berkshire Hathaway HomeServices The Preferred Realty real estate professional. We will be happy to help make you the next good neighbor in your chosen new neighborhood!