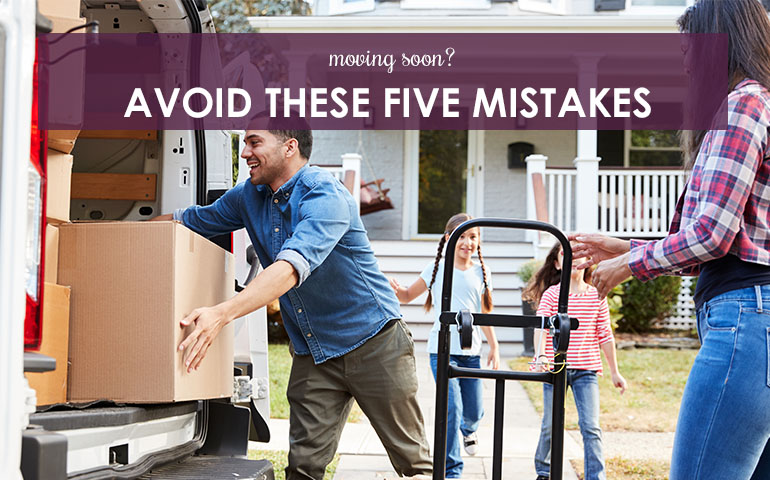 Moving Soon? Avoid These Five Mistakes
Moving into a new home requires a lot of planning and important decisions. Sometimes these steps can be overlooked, causing you to lose a lot of time and money in the relocation process. Luckily planning is an easy way to reduce stress and avoid mistakes. Before your next move, sit down and take time to prepare so you can have a smooth and enjoyable moving experience!
1. Not Having a Moving Plan
When you are moving, it is essential to be organized. Putting in place, a pre-move plan will give you peace of mind and make your move a whole lot easier. Figuring out where to start can be the hardest part. Go through your home and make a list of the items that you will need to pack up and those the movers will. After you make a list, you can easily go through your home and start crossing items off! A good tip is to make sure your most essential items are the last on the truck and the first thing to be pulled off!
2. Failing to Research Movers
Make sure that you are hiring movers that you can trust and do extensive research before choosing a company. It is very important that you read reviews and compare costs between companies so that you are getting the best price with the best service. You should also call the moving company well before you move to discuss any additional costs, moving insurance and how long the process is expected to take.
3. Forgetting to Take Measurements
Make sure that you take measurements of your new home before you buy new furniture or bring existing pieces into your home. If you fail to take measurements, it can result in damage to both your new home and your furniture. Save yourself the hassle by going to your new space and creating a layout and measuring everything. Moving pros have been known to mark where they want their furniture on the floors and work with painters to tape off their home before they move in.
4. Not Having Your New Home Ready In Time
Before you leave your old space, make sure that your new home will be ready to move into. There is nothing worse than realizing your new home is still being repaired and you will have to pay for storage and a hotel. Also, don't forget to transfer the utilities, so that you have electricity, gas, and water when you arrive in your new home. You should also take a look at your new trash service schedules. Moving causes a lot of trash piled up and you won't want to miss trash day. Once you take care of the small stuff, you will be able to unpack and relax in your new home.
5. Forgetting to change your address.
This one might sound simple and be low on your priority list, but nothing is worse than trying to track down that lost package. Make sure when you move that you visit the United States Postal Service website and complete your change of address form. It is also important to alert any subscription services of your move, update your billing and change the address on your driver's license.

When you think about moving make sure to consider some of these tips to save yourself time and money when it comes to your relocation. Moving isn't an easy task, but with a plan, you will be sure to have a smoother process.