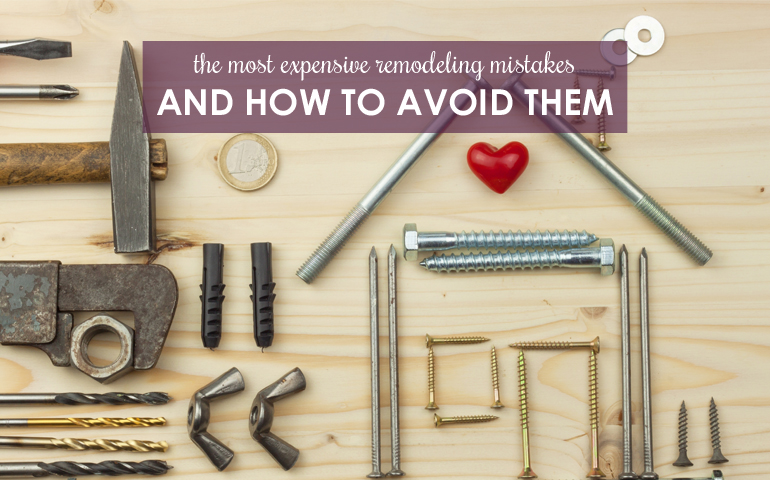 Five of the Most Expensive Remodeling Mistakes—And How to Avoid Them
Typically, when you set out to complete a home remodeling project, you're aiming to make upgrades to a home you already love. In a best-case scenario, you're able to complete renovations in a cost-effective manner that adds beauty and value to your home.

But, what happens when your home renovation goes wrong? From unprojected costs to design disasters to contractor concerns, there is a lot that can go wrong during a home remodeling project. Today, we've selected some of the biggest—and most expensive remodeling blunders, so that you can avoid them during your next home renovation project.

Here are five of the most expensive remodeling mistakes – and advice on how you can avoid them:

1. Trying to DIY, When You DI-Don't
It seems like an easy idea to handle your home renovation by yourself. After all, you've watched those home improvement shows that tout the importance and excitement that goes along with demolition day, why couldn't you see your entire renovation project through to completion?

If you are unable to complete a home renovation on your own, you'll need to call in a professional. You may not only have to pay for their advice but if you've attempted your home remodeling project yourself, you would need to pay for their expertise in fixing any outlying issues.

Avoid this costly mistake by knowing your limits when it comes to DIY projects.


2. Abiding by Local Building Codes
It may seem like a formality when you're completing a home renovation, but you must be careful to follow the building permit and code rules in your community. If you don't follow these ever-so-important rules, you could face some fines. In a worst-case scenario, not following building codes could cause issues for you if you intend to sell your home in the future. Finally, your work could potentially be torn down if it does not meet building codes.

Avoid this costly remodeling mistake by taking care to follow local building codes when you're completing home upgrades.

3. Forgetting About the Unexpected
When it comes to any home construction project, there are a few variables to consider. First, you need to allow for overages when it comes to the construction timeline and budget. Even if your contractor is routinely on time, there could be delays when it comes to ordering parts or supplies for your project. Expect your home to be under construction for longer than your contract states. If it's not, that's great. If it is, you'll have a backup plan.

Secondly, construction projects can come with added costs. Once your contractor begins demolition, they may run into underlying issues that could increase your project costs. Don't let this potentially costly occurrence take you by surprise.

Avoid unexpected costs (and stress) during home construction by simply expecting things to not always go as planned.

4. Hiring the Wrong Contractor
There are many service professionals out there who will be happy to help you complete your home remodeling projects. Do your research before you select which contractor is best for you and your project. The most expensive contractor may not always be the best. Hiring the most inexpensive contractor can also be a big mistake. If you hire a contractor and are not happy with their work, you'll not only have to pay their fees, but you could have to pay another contractor to come back in and repair or complete any work that was not finished.

Avoid this remodeling mistake by taking time to research contractors and conduct thorough interviews before you hire the one that is best for your home renovation.

5. Failing to Consider Return on Investment
Everything could go as planned with your remodeling project, which is great. But, down the road, you could still find that you've made a costly mistake. There are some home improvement projects that simply won't pay off if you intend to sell your home in the future. Be cognizant of your choices during your renovation project to make sure you're getting the most for what you're spending. Find out which projects provide the biggest payoff when it comes to a resale, so you don't take a loss on the project you love.

Avoid this costly remodeling error by keeping your return on investment at the top of your mind before your project even begins.

Don't forget to consider these five potentially costly mistakes. And, remember, with a little research and planning, your next home remodeling project is sure to be a big success!