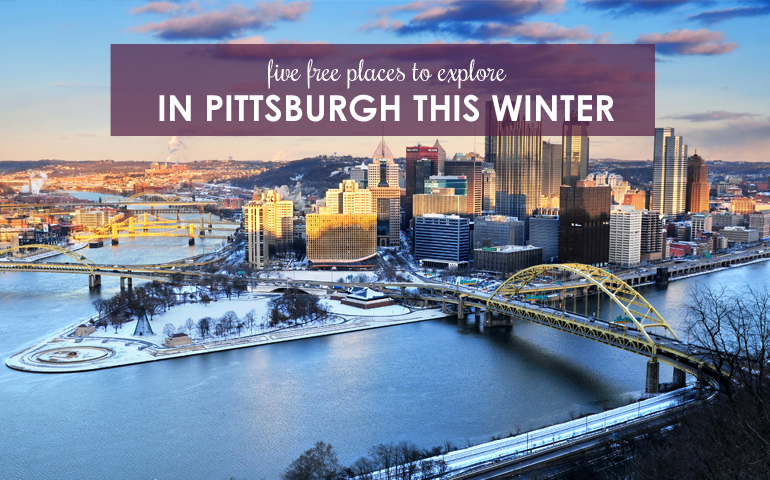 Five Free Places to Explore in Pittsburgh This Winter
With less than two weeks until winter's biggest holiday, many of us are caught up in the hustle and bustle of the season. We're enamored with the sights of a few snowflakes, exhausted from long days of shopping for gifts and simply trying to keep up with the latest made-for-TV holiday favorites! But once January hits, we'll all be back to detesting the cold and snow—even considering sheltering away in our homes to wait out winter weather until the warmer spring arrives.

Today, we're going to give you a few reasons to combat the cold to get out and enjoy your city. Pittsburgh has a lot to offer in any season! If you've broken the bank this holiday season, you'll even be pleased to know that Pittsburgh offers some free fun during winter months too.

Here are five free things to see and do with your family in Pittsburgh this winter:

1. Play in a Pittsburgh park.
Winter might bring ice and snow, but don't let that stop you from enjoying the great outdoors at one of Pittsburgh's regional parks. From trekking the trails on a holiday hike to soaring down sledding hills to simply building a friendly snowman, Pittsburgh's parks are quite active—even during winter! Whether Mother Nature drops snow, ice or sunny days this winter, take time to enjoy Pittsburgh's great outdoors at Frick Park, Schenley Park or any of the city's other regional parks.

2. See the city from atop Mount Washington.
Even if you've seen the city from Mount Washington during warmer seasons, you still must take in the lights and sights from atop this famous Pittsburgh spot during the winter. From panoramic views of the city's skyline to shops and restaurants galore, Mount Washington is a happening place in Pittsburgh any time of the year.

3. Visit Bicycle Heaven.
Pittsburgh's Bellevue neighborhood has been home to Bicycle Heaven for more than two decades. Now the bike shop includes a museum and has been recognized by The New York Times, Trip Advisor and various other outlets. The scenic museum even features bikes you might have seen on the big screen! If the weather allows, you can have your bike tuned up and take it for a ride. If winter weather prevents you from riding outdoors, you can still enjoy the bikes on display at the museum—free of charge!

4. Stroll through the Strip District.
It doesn't cost anything to walk through the Strip District's converted warehouses. But you might want to bring some cash to spend at one of the grocery stores, boutiques or other merchants. This half-mile strip along the Allegheny River is particularly bustling on weekends when vendors line the streets to offer just about anything and everything you might want to purchase. The Strip District is a Pittsburgh destination you must experience.

5. Absorb a little art or history.
Instead of letting cabin fever set in at home during the winter, get out and explore a little art and history in one of Pittsburgh's historical buildings. The Frick Art Museum offers free admission for families to enjoy exhibits, programs, concerts and more. The University of Pittsburgh's Cathedral of Learning showcases Nationality Rooms that serve as classrooms when the university is in session. However, they are open for guided tours during winter break—the perfect time to see them in their holiday splendor—and pick up a few international gifts from the cultures they represent!

Don't wait out winter at home this year. Instead, get out and enjoy some free fun in and around Pittsburgh!