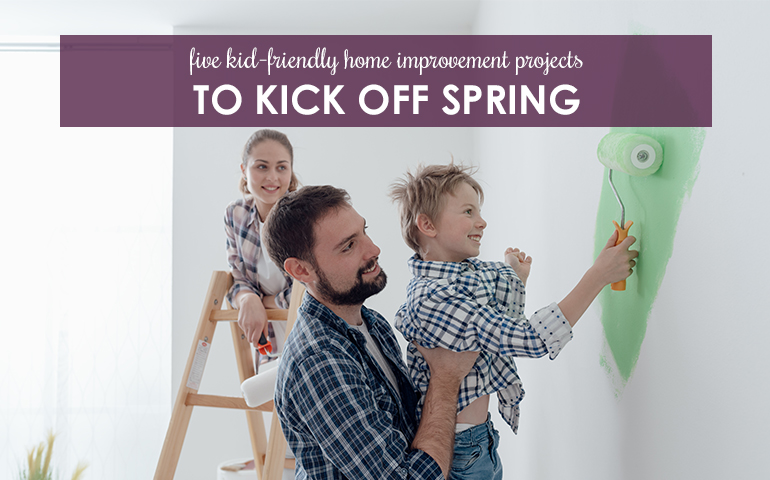 5 Kid-friendly Home Improvement Projects to Kick Off Spring
Now that the weather is starting to warm up and we're all adjusting to that extra hour of daylight in the evenings, it is the perfect time to get outside and send cabin fever packing for the spring season! If you and your crew are looking for some fun outdoor activities to help usher in the warmer weather, we can help. And—you can help improve your home's appearance at the same time.

Here are five kid-friendly home improvement projects you can complete on nice spring days:

1. Paint your mailbox (or fence). We know, we know. Painting can be a messy home improvement project, whether you're involving your children or not. But, if your kids are interested in helping with your home maintenance tasks, what better place to let them pitch in than outdoors? Enlist your kids to help with giving your mailbox a fresh look for the new season. Or—if you need to apply a new coat of paint to your backyard fence, let your kids help! Trust us, a few drops of paint on your patio or in your grass is better than a few drops of paint inside your home.

2. Plant flowers or shrubs. Spring is a great time to update your outdoor décor. Give your greenery a head start by getting some of the planting out of the way now. Whether you're going for potted plants or adding some flowers or bushes to your natural landscaping, planting is a great outdoor activity for kids. Use the mild weather to get ahead of spring planting and let your kids pitch in to give your curb appeal a personal touch.

3. Make stepping stones. Another great way to liven up your landscape is to add some personally created stepping stones. Visit your local craft store or hardware store to stock up on supplies and let your kids get creative. Plus, think—when you add stepping stones to your landscaping in spring, you can avoid more of the mud that those April showers can bring!

4. Build a bird feeder. The spring season brings warm breezes and birds chirping. Don't be afraid to show your neighborhood birdies some love by creating your very own bird feeder! This outdoor home improvement project aligns perfectly with the spring season. You can buy and build a ready-made, eye-catching bird feeder for your home – or you can use a few supplies you probably have around the house, like a paper towel roll, peanut butter and birdseed to make a homemade bird feeder for your home.

5. Create a compost bin. It can be hard to get your children to eat all of their dinner, right? Instead of throwing out extra table scraps, turn those uneaten meals into a home improvement project. Use your evening leftovers to create a compost bin for you home. Not only will you be wasting less food, you'll also be providing yourself with great fertilizer for your spring planting!

Ready to tackle a few kid-friendly home improvement projects already? Pick up some supplies today and start creating!