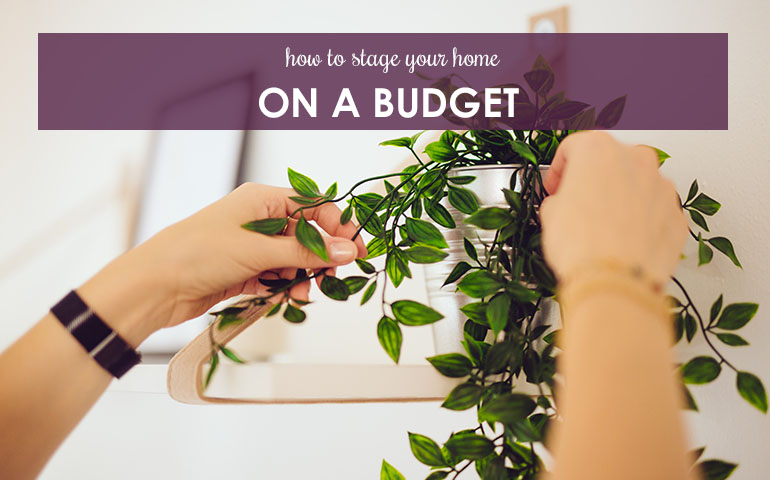 How to Stage Your Home on a Budget
A common misconception is that it costs a lot to stage your home. When it comes to selling a home, appearance is everything. Home staging can make all the difference. Most home sellers think they have to break the bank to stage their homes; this isn't the case. It is possible to stage a home on a budget or even for free!
Declutter and Depersonalize Each Room
One of the first things you should do in home staging is to declutter and organize your home. This is a free and relatively easy way to make your home appear larger and more appealing to a potential buyer. You should remove all clutter from the common areas of your home and try and free up closet and cabinet space. After decluttering, pack your personal belongings like family photos and knickknacks. All your belongings are great additions to your home, but buyers come to see your home, not your personal belongings. They will not be able to picture themselves in the space if all they see are your things.
Move Furniture Around
Moving your furniture around can change the whole look of your space. Relocate furniture that is cramping one room, and move it into another to add visual space. This will make both rooms appear larger and will sit well with a potential buyer. To prevent your interior from looking plain, you should mix furnishings, fabrics, and colors. You could do this by adding a slipcover to a couch for a cheap way to add a different look to your room. You could also add a fresh potted plant into a neutral room for a pop of color!
Straighten Up Your Home's Exterior
When people think of staging a home, they typically only have the interior of the home in mind. The exterior of your home is just important in a buyer's eye. That may mean pulling a few weeds and even giving some much-needed TLC to the garden. Making sure you have curb appeal is very important in home staging, because this gives a potential buyer their first impression of your home. Whatever your buyer will see on their way into your home should look flawless.
Add in Some Decorations
The key to staging your home on a budget is to use what you already have to re-invent the spaces in your home, making them feel cozy and stylish. Use furniture, plants, and accent pieces to highlight desirable home features.
Staging your home on a budget is very do-able and will make a great first impression on your buyers. Typically homes that are staged sell twice as fast than homes that are not staged. Some agents will offer services to stage your home for free before they show it. Talk to your agent to find out more before you list your home!