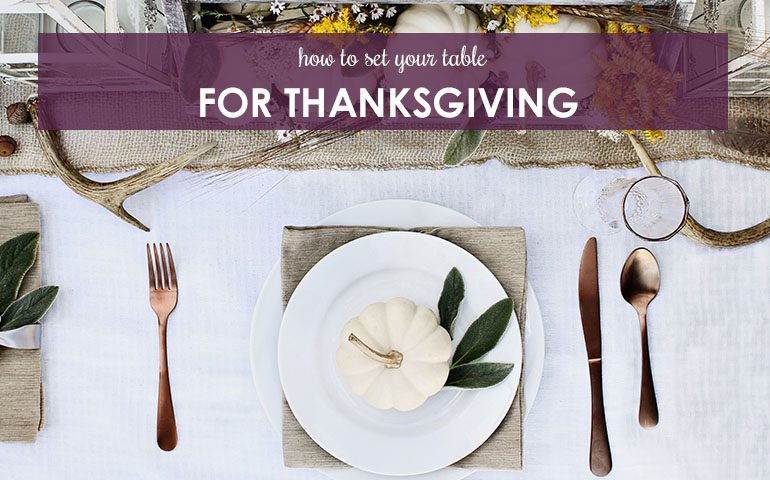 How to Set Your Table for Thanksgiving
After you take the time to make a delicious dinner, you wouldn't want to ruin it with bland table decorations. This Thanksgiving make an impression on your guests with a beautifully decorated table!
Start With A Large Table
This Thanksgiving, setting up your table will be the first step in getting ready for the big dinner. You will need to figure out how many guests will be coming and then make sure you have room for enough place settings. Traditionally, a large rectangular table will be the most comfortable and allow for the most place settings. You can also set up smaller round tables for extra room. You will want to make sure that you have enough space for all of your guests. There's nothing worse than bumping elbows with your neighbor when trying to eat! Its standard to have 24 inches in between people and 36 inches between the table and wall.
Choose A Table Cloth or Table Runner
Thanksgiving dinner is one of the few times a year you can go all out in your table decorations. Adding a table cloth or table runner will add an elegant touch to your dinner, try using a festive plaid or burlap to add a Thanksgiving feel instead of a traditional white tablecloth. If you have a nice table and want to show it off, try using a table runner instead. A centered runner can help establish a festive color scheme for your table while still letting your table surface shine. If you are having a kids table or want a budget-friendly option, cover your table with brown paper and have everyone write one thing they are thankful for around their plate. This is a fun holiday activity that will have the table decorate itself!
Choose Your Table Settings
You don't have to spend a fortune on new china to create stunning table settings for your Thanksgiving dinner to look great. Here's how to create a fabulous place setting worthy of your Thanksgiving turkey!
Center the plate in the middle of the placemat or area that your guest will be sitting.

Place the dinner fork to the left of the plate and the salad fork to the left of the dinner fork.

Place the knife on the right side of the plate, with the serrated edge facing inward.

Place the dinner spoon to the right of the knife.

Place a glass above the knife, so it is above and to the right of the plate.

Place a folded cloth napkin on top of the plate, you can add a napkin ring around it to make it look nicer!
You can make your dinner setting casual or formal. We have included a chart below to make things easier!
Add in a Centerpiece
One of the last pieces you will need to complete your table is a festive centerpiece. If you are limited on room, try adding in some small pumpkins, acorns or fall greenery. If you have the room, you can create your own fall centerpiece! A bouquet of autumn-colored flowers and small squashes are both traditional pieces that will add texture to your table. You can accent your festive Thanksgiving table with some candles. Centerpieces are a great addition to any table, but you also have to make sure it doesn't overtake your table and that you make sure you have room for your guests. Nothing is worse than trying to have a conversation, but decorations are in your sightline. When creating the perfect centerpiece for your Thanksgiving table, keep your guests and tablespace in mind and your space will come together!

With these four easy steps, you will have a table that will impress anyone! After you finish decorating, you can sit down and enjoy your Thanksgiving dinner.