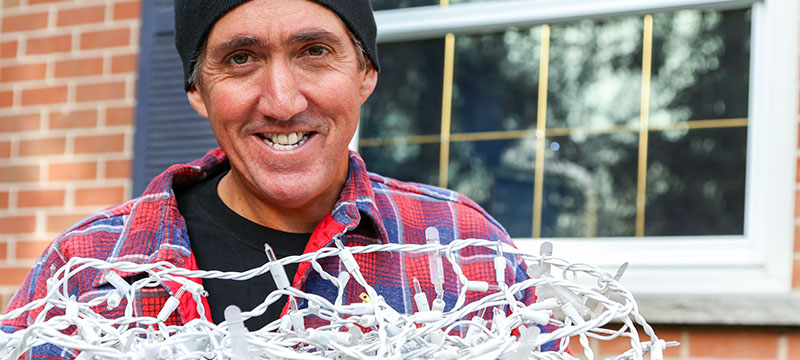 Keep Spirits High and Utility Bills Low this Holiday Season!
If you haven't already decked your halls for the holiday season, you may be planning to get a little festive right about now. And, why not? So far this season, the weather has been pretty mild; so, the time is right to hang lights, string garland and add other holiday décor.
But, what happens when the weather outside turns much colder during the holidays? Of course, you'll keep your holiday lights burning bright, but you may also keep your thermostat turned up at the expense of your utility bills. Instead, give yourself a little gift this season and follow a few simple tips for keeping utility bills low, even when your spirits are high around the holidays.
Holiday lights are a huge culprit when it comes to increased utility costs during the festive season. Here are three tips for keeping your electric bill low while your cheer is shining bright:
Stop Using Your Parents' Holiday Lights
You know those strands are missing at least a few bulbs anyway and it's only a matter of time before they'll need replaced! With all of the current holiday sales, it is a great time to upgrade old holiday lights to more energy-efficient models. Invest in LED lights to deck your home for the holidays.
Turn Holiday Lights Off… At Least Sometimes
Who doesn't love the way their home looks all lit up during this time of year? But, don't let that love get in the way of your sensibility! Instead of leaving your trees, garland and holiday village running 24/7, put those decorations on timers to conserve some energy!
Give Holiday Décor the Attention it Deserves
Once you've convinced yourself that it is OK to turn holiday lights off sometimes, don't forget to shine the spotlight on them when they are lit! Turn off other lights when your home is illuminated by holiday décor. Not only will you be setting a festive ambiance, but you'll be saving energy, too!
Now that we've knocked those holiday utility hikers out of the way, don't forget to consider some routine tips when it comes to cutting energy costs this winter:
Reduce the Thermostat for a Full House
Whether you're hosting a holiday happening or just a weekend get-together this winter, when you've got a full house, there is no need to hike up your thermostat. Do your energy bill and your guests a favor by turning down your thermostat while your house is full.
Install a Programmable Thermostat
Since it 'tis the shopping season anyway, if your home is not already equipped with a programmable thermostat, take advantage of a holiday sale now! Some of today's smart technology will even program itself based on your routine behavior. As a general rule of thumb, lower the thermostat while you're sleeping or are just away from home.
Let Mother Nature Help with Utility Costs
Just because it may soon be cold outside doesn't mean that Mother Nature can't contribute toward heating your home. On sunny winter days, open your blinds or curtains to let her warm rays of sunshine help to heat your home!
Prevent Drafts from Turning You to a Grinch
As much as you want to let Mother Nature's warmth in, you'll need to keep Old Man Winter's chill out! Keep your home delightfully warm by weatherizing your windows. Add caulking along seams and possibly pick up an insulator kit from your local hardware store. As a second defense, install insulated drapes!
Make Maintenance a Priority
When it comes to heating your home, often times, everything is OK… until, it's not. Before winter weather makes things uncomfortable, have your HVAC system inspected to ensure it is running at 100%. Following that inspection, be sure to change your filter each month!
Don't let winter weather wreak havoc on your utility bills - especially during the holiday season. Take charge of unnecessary utility costs by adapting a few of our energy-saving tips today!
This post is sponsored by PA Preferred Mortgage:
Pennsylvania Preferred Mortgage is a full service mortgage banker and is a member of the Prosperity Home Mortgage, LLC family. Specializing in residential and refinance loans, Pennsylvania Preferred Mortgage offers a wide range of mortgage products, including fixed and adjustable rate mortgages, jumbo loans, Federal Housing Administration (FHA) and Veterans Affairs (VA) loans, and renovation financing. Learn more at www.papreferredmortgage.com.