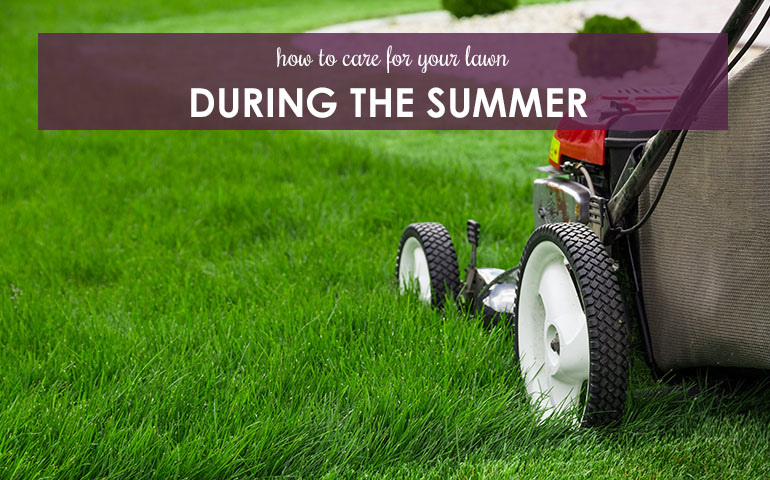 How to Care For Your Lawn During the Summer
The past couple of weeks have been unseasonably warm, and while we all love the sun, your grass might be begging for some heavy thunderstorms. Check out the best tips to help you keep your grass looking green all summer long!
Water Frequently
The hot days may be great for the pool, but they will for sure put a strain on your grass! Watering your grass is one of the most important parts of keeping your lawn green all summer long. Knowing when to water is also very important. Typically, that's when the grass turns a grayish-blue color. Or if you step on it, and it stays matted down instead of springing back up, you should water.
Each week, give your turf one or 1 ½ inches of water, as early in the day as you can. Watering in the morning gives the soil enough time to soak up the liquid before the heat of the day evaporates it. If you do not have an in-ground sprinkler system installed, you can still care for your grass with a cheap sprinkler and a hose from your local home improvement store!
Apply Fertilizer
The general rule of thumb landscaping contractors recommend is to fertilize your lawn every six weeks. However, you may find that this causes your lawn to grow too quickly when using traditional fertilizers. If you are feeling like this is too much for your lawn, you could fertilize every two months!
Aerate Your Lawn
Your lawn needs to be able to breathe. Aerated lawns will be better able to absorb water, which will lessen the occurrence of runoff. A simple and economical way to aerate is to use a garden fork. Push the garden fork into the ground at approximately one-foot intervals. For a larger lawn, rent an aerator to make the job easier.
Don't Mow Your Lawn Too Short
When you mow your lawn very short, it creates more work and maintenance in the long run, because you need to water more frequently and use more herbicides. Also, if you mow your lawn one day after watering, you will help your lawn heal better from the recent cut. This often prevents the tips from turning yellow and brown.
While brown grass is not a problem in itself, most prefer the look of a lush green lawn year-round. With a little extra TLC and some watering, you will be on the right track to rehabbing your lawn!