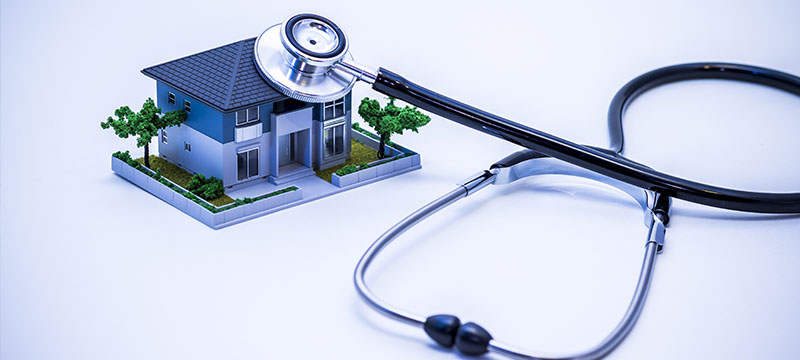 Home Maintenance Help: 5 Things You Need to Check Now
We may be preparing to say goodbye to January, but before we write-off (no tax season pun intended!) the first month of 2017, let's make sure we're getting a solid start to this New Year of homeownership. Home maintenance may not have been the first resolution on your list this year; but, it may be one of the most important!
Set up your home for a successful 2017! Perform these five home maintenance checks now:
1. Inspect Detectors
It is some of the oldest – and most important – home maintenance and safety advice in the books. You've got to get on a schedule of regularly checking your home's smoke and carbon monoxide detectors. If possible, test your detectors once a month (the first day of the new month is tomorrow – hint hint!). Though you are performing routine checks, it also is a good idea to replace batteries in your smoke and carbon monoxide detectors two times annually.
2. Declutter Gutters
Maybe a few extra leaves or other grime in your gutters doesn't sound like that much of an issue to you. However, ignoring gutter clutter at any time of the year could lead to much larger problems, like leaky basements or cracked foundations. So, in fall and spring, it typically is a good idea to get grime out of your gutters. In fall, clear out fallen leaves and twigs. In spring, check for residue left from snow and rain.
3. Crank up HVAC Care
This is a big one when it comes to your home's routine maintenance schedule since your HVAC system is responsible for maintaining a comfortable temperature in your home all ,year long. You can keep your HVAC system running smoothly and avoid costly repairs or replacements by administering a little routine TLC. It is a good idea to bring in a professional two times each year to do an overall check of your HVAC system. On your end, do due diligence by replacing your HVAC system's filters at least every couple of months.
4. Scan the Sump Pump
This may be a part of your home that you rarely think about… until you have to, that is! Your home's sump pump is likely located in your basement and it is responsible for keeping moisture from accumulating around your foundation and in your basement (read: flooding). When checking your sump pump a couple times each year, be sure to inspect both the outside pipe for debris and the inside pump for functionality. You can check the actual pump by unplugging it and plugging it back in or by pouring a small amount of water in it to make sure that it kicks on. Of course, you can always hire a handyman to help with this home maintenance task.
5. Raise (Questions About) the Roof
You don't have to be a professional to regularly inspect your roof for – what could end up being – big problems and costly repairs. Attempt to avoid roof repairs or total replacements by regularly checking for loose, damaged or missing shingles outside your home. Inside, inspect your attic for water marks or damage that may point to roof leaks. Though you do not need to make this a monthly maintenance task, it may be a good idea to check your roof on a seasonal basis.
By completing these five home maintenance checks early this year, you'll be giving your home a great start to 2017. Keep up the preventative schedule to promote healthy home maintenance and happy home ownership all year long!