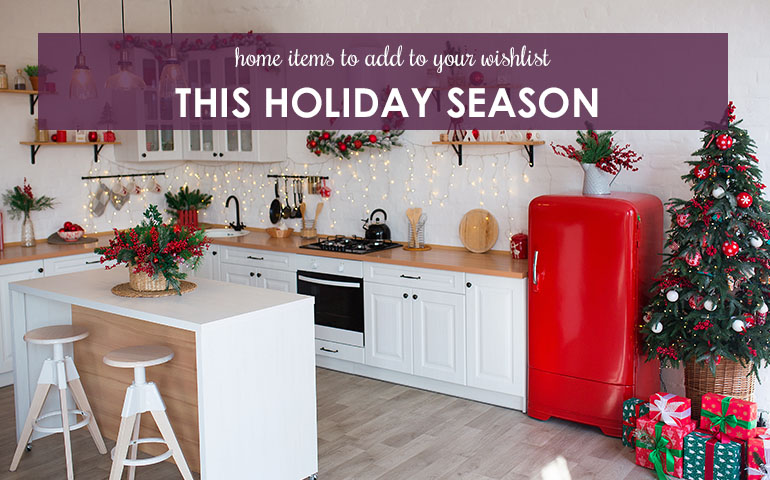 Home Items to Add to Your Wishlist This Holiday Season
As you're completing your holiday shopping this month, there are some obvious gift recipients on your list. But this year, we're suggesting that you add your home to your "nice" list when it comes to making holiday purchases. Check out these items you should gift your home for the holidays!
Kitchen Appliances
Now that a lot of us are cooking at home more, buying those big-ticket kitchen appliances might be a smart move this year! Whether you are in need of a new oven or maybe even a smart refrigerator, this holiday could be the right time! Around the holiday season, you might be able to score some good deals on large home appliances.
Home Office Accessories
If you are still working from home, it might be time to finally spruce up your home office space. Whether that means getting a more comfortable chair, a larger desk, or the dual monitor you have been dying to treat yourself and your home to this holiday season!
Snow Blower
We've just had the first snowfall of the year and if you were wishing for a snowblower, Christmas is the perfect time to purchase one. This is a larger ticket item that will pay off in the long run. There are a lot of home improvement stores that are having sales on snowblowers right now.
Smart Home Technology
Smart Home Technology is all everyone talks about these days, so why not add some items to your holiday wishlist! Whether you want to install a programmable thermostat to save some money on electricity bills or ditch your house keys with a smart lock, there are a lot of options in different price ranges! It's the gift that keeps on giving based on the savings!
Speaker System
Whether you're looking to enhance your home with surround sound for a big football party, or simply trying to enjoy a quiet night at home listening to holiday carols, Sonos offers incredible technology that is sure to surpass your expectations. This speaker pairs with pretty much every music service out there can be controlled by app or voice and is even humidity resistant. Start off with one speaker or add more than one to create a sound system for your entire home.
This season, treat yourself and your home to some of these wishlist items! Whether you want to entertain your family by coming up with new meals in the kitchen or save some time shoveling, there is a gift for every homeowner!