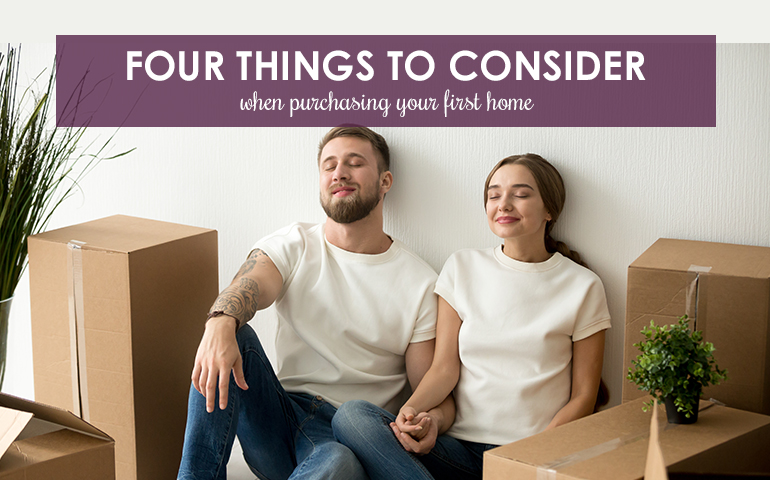 Four Things to Consider When Purchasing Your First Home
Summer is approaching, and along with lemonade on the porch and trips to the pool, those who are looking for their first home will be gifted with a healthy market. When the weather warms, the U.S housing supply gets pretty hot between the months of June and August.

So, now is a great time for the first-time home buyer to browse the market and get an idea of what is out there. If the price is too high for what you want, you can always wait. But the information you will gain by exploring the market is helpful. If you do decide to put in an offer, here are some important questions for you to answer before putting pen to paper.

1. Is this my forever home?
This first question will determine how and when you should address the other decisions you will need to make when buying a home. If you plan on buying one home in your lifetime, you will need to be more certain of what you want than someone who is purchasing a starter home.

Knowing how much space you want is a big deal. You can change almost any aspect of the design of your home relatively easily, but adding more space is often very expensive and requires permits. While the average square footage of homes being built has grown by 300 square feet every ten years for the last 30 years, that doesn't mean you need all of that room. Figure out the square footage of your past residences and how that space worked for you. Will you have more or the same amount of people living in this new place? That should give you a good idea of how much space you will be comfortable with.

2. How much should I spend?
We have all seen renovation shows where the couple shows up with a budget of $300,000, the agent finds their dream home at $200,000, and they decide it is a great idea to spend the extra $100,000 on renovations. Remember, you don't have to spend all the money you have. A good way to think about your finances is to see what you have saved for a down payment and how much you can comfortably spend monthly on a mortgage. And don't forget to add up all your current debt, including car payments, student loans, credit cards, and any other expenses that factor into your monthly budget.

3. Do I like the school district?
"I don't have or want kids," you say. Well, I say, "Made you look!" Analyzing the school district is more than deciding whether you desired location has schools you like. You will also need to find out what the school, sewage, and other taxes are that will be attached to your dream property. Also, the boundaries of the school district often dictate who the local governing body is for that neighborhood. Reading up on local policy decisions past and present can help you decide whether that neighborhood is right for you.

4. Am I ready for this?
If you are unsure about your finances, the market, or any of the other sometimes overwhelming aspects of purchasing your first home, we can help. Don't jump into any purchase that you are unsure about. Even if you don't buy a home this spring, your first round of browsing will have you prepared for when the time is right.