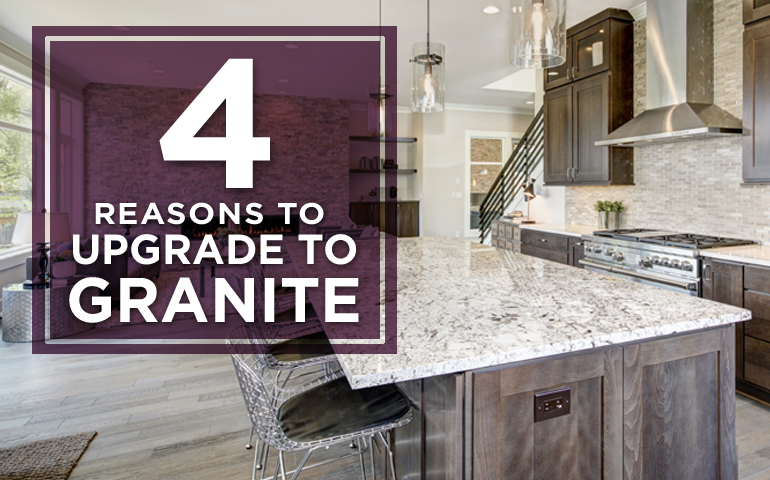 Four Reasons to Upgrade Your Countertops to Granite
Are you dreaming of making upgrades to your kitchen in the new year? When you are thinking of what upgrades to make, you might want to consider adding granite countertops to your kitchen or bathroom. From the durability of the countertops to their gorgeous design, there are so many reasons to pick granite for your home!
Increases the Value of Your Home
For many people, the kitchen is one of the most important rooms in a house. Having granite countertops will make a great first impression on any potential buyers. The kitchen is also an important room when it comes to the market value of your house. When you remodel a kitchen with features such as granite countertops, you often will not only recoup your investment but also boost the value of your house in the process.
Great Investment
Granite countertops will last your lifetime—and beyond. Over the next 30 years, comparably priced countertops and even those that are significantly more expensive than granite will most likely have to be replaced twice. You can comfortably put granite in any part of your home and have the peace of mind that it won't fade, stain, or scratch. Whether it is outdoors or in a kitchen or bathroom, granite is a solid investment for your home.
Heat and Scratch Proof
After each meal, wiping down kitchen countertops with a soft cloth and gentle cleanser is all you need to do to keep your granite looking beautiful. Granite is tough, resistant to staining, etching, and won't scorch if you happen to place a hot pan on it. Homeowners who want an extra level of protection, can quickly seal their countertops in about 10 minutes and have a lifetime warranty against staining.
You can also think about installing granite in your bathroom. It's heat resistant qualities are great for someone who frequently uses a curling iron!
Every Piece is Unique
A big reason that granite is so popular is not only because of its durability, but each piece of granite is unique. When you choose to install granite countertops, you have the freedom of previewing entire slabs of natural stone and selecting the one you want in your home. Viewing the whole slab allows you to make an informed decision based on the innate color variations and veining, which may vary widely from slab to slab. If you are installing a large island, you will be able to pick a large enough piece so there is no visible seam in your countertops!
Thinking of replacing your countertops in 2020? Whether you want an updated kitchen or a fresh look in your bathroom, there is no better time than now to make new upgrades and enjoy your new space this year!
Have you heard about our New Neighbor Program? Berkshire Hathaway HomeServices The Preferred Realty can offer its clients exclusive discounts from area vendors, including Ultimate Granite, through our New Neighbor Program. Want to know more? Ask your real estate agent for more information!
Berkshire Hathaway HomeServices does not endorse any of the products or vendors referenced on this material. Any mention of vendors, products, or services are for informational purposes only.