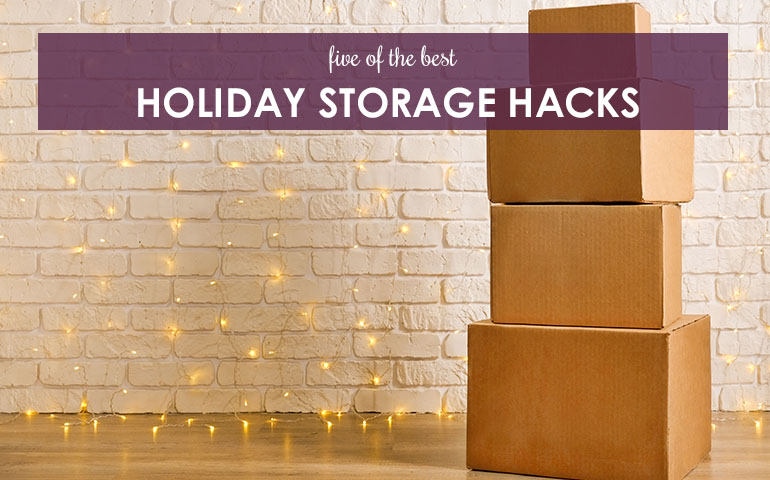 Five of the Best Holiday Storage Hacks
It's hard to beat the festive feeling of a fully decorated house during the holidays. But once the season ends, what are homeowners to do with all the decor that has been filling their homes during this super-cold season?
Wrapping Paper
While we're talking specifically about holiday wrapping paper here, you could use this hack any time of the year. It is always a good idea to keep extra rolls of wrapping paper on hand, but it also can be difficult to store long rolls. Keep your wrapping paper in order by hanging it up! How so? You can use a garment bag or shoe bag to keep wrapping paper rolls neatly vertical in a spare closet until you're ready to use them.
Wreaths
Holiday wreaths certainly add festive fullness during the season. But once the holidays are over, they can take up a lot of space! Instead of trying to stack your wreaths somewhere in your home, consider hanging them over a garment rack. They'll stay neatly aligned and out of your way until you're ready to decorate with them again next year.
Ornaments
For many, holiday ornaments hold a special place during the season. They're given as gifts or bought to celebrate special moments in a person's life. We look fondly at them as they adorn our trees each year. So, of course, we want to properly store them during the off-season, right? Keeping original ornament boxes is sure to take up a lot of storage space. But there are a few alternatives that can keep your ornaments in order. Try using an egg carton, plastic cups or even a wine box to safely separate and store your special holiday ornaments. You'll keep your ornaments in order—and you'll be repurposing some items you might normally toss out.
Lights
Tired of battling with untangling holiday lights at the start of each holiday season? Make sure you can skip that step by properly storing your lights this year. Wrap each strand of lights around a piece of cardboard to get rid of those terrible tangles. If you're not ready to part with the extra lighting in your home, try to find another way to use your lights. You can easily add strands of white lights to brighten up your home's décor any time of the year. You'll save on storage space and be able to enjoy that warm glow all year long.
Labels
This might not be a traditional hack for handling your holiday décor, but it is a great piece of advice for just about anything you're trying to store. Whether you're using boxes, crates or cartons for your festive decorations, be sure to meticulously label everything! Instead of just writing what's in a box, give yourself an extra reminder of where a box's contents might belong once you're ready to get them out again. For instance, "table settings—dining room" will give you a clear direction on where to start when you're ready to decorate again.
For now, enjoy the holiday season and festive décor in your home. But once the season ends, use these helpful hacks to neatly stow your decorations and more until next year!