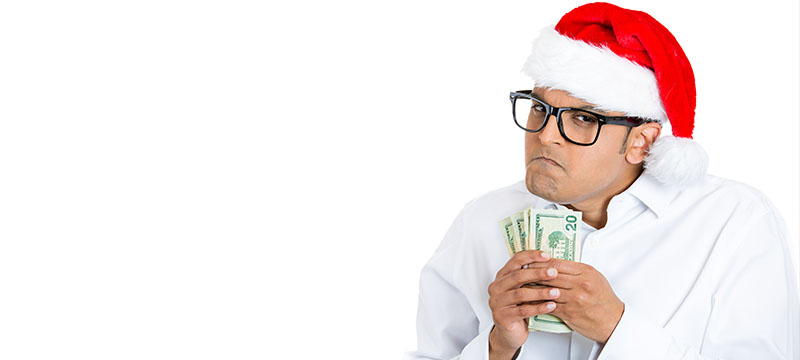 Five Ways to Save this Season Without Feeling Like a Scrooge
Gift-giving season is in full effect, but what happens when you're trying to stay focused on your financial goals instead of overspending around the holidays? Of course, you want to get your loved ones gifts that they'll love, but you don't want to lose focus and sacrifice dreams like homeownership or that screened-in addition you've been saving up for this year.
Don't worry; you don't have to be a Scrooge to save some money during the holidays! Here are five easy ways to save during this spending season:
1. Make a List and Check it Twice
The big man in red is not the only one who should be reviewing his "nice" list this holiday season. When you're trying to save some money, take a really good look at your gift-giving list. Do you even know how many people you buy gifts for? You may end up being surprised to find out that your siblings are relieved when you suggest only buying gifts for the kids this year! Carefully examine your gift-giving list before you go on a spending spree this season.
2. Set (and Stick) to Spending Limits
If you don't feel OK with cutting back on your holiday gift-giving list, maybe you would feel more comfortable with setting some spending limits. Setting a $30 limit with siblings is a great way to control spending around the holidays. Don't forget, though. In addition to setting that limit, you've got to stick to it!
3. Suggest a Name Swap
If you've got a big family, name swaps add some fun and frugality to the holidays. By drawing names of family members, you not only get to play Secret Santa, but you also get to buy and receive one nice gift, instead of splurging on several small gifts just to make sure you've got everyone covered.
4. Use Cashback Sites
Now, onto the actual spending. When you are ready to make some purchases, you'll certainly be looking for the best deals. But, how about actually getting paid to buy your gifts?! Cashback sites like Mr. Rebates, Ebates and BeFrugal will give you a percentage of your purchase back in cash! That's some savvy shopping!
5. Give the Gift of Your Time
You've heard it before, but it truly is the thought that counts when it comes to gift-giving. Instead of shelling out your hard-earned cash to make your loved ones happy this holiday season, give them the gift of your time. Offer to spend the day with a niece or nephew and try out one of their favorite hobbies. Give your siblings a free night out by offering to babysit. Your thoughtfulness is sure to be appreciated more than that scarf and mittens set you were planning to purchase.
The chances are, if you have a savings goal like homeownership or a remodeling project in mind this holiday season, you've likely shared that goal with most – if not all – of the people on your gift-giving list. So, don't feel like a Scrooge! Keep your savings in mind and enjoy a stress-free holiday season!
This post is sponsored by PA Preferred Mortgage:
Pennsylvania Preferred Mortgage is a full service mortgage banker and is a member of the Prosperity Home Mortgage, LLC family. Specializing in residential and refinance loans, Pennsylvania Preferred Mortgage offers a wide range of mortgage products, including fixed and adjustable rate mortgages, jumbo loans, Federal Housing Administration (FHA) and Veterans Affairs (VA) loans, and renovation financing. Learn more at www.papreferredmortgage.com.