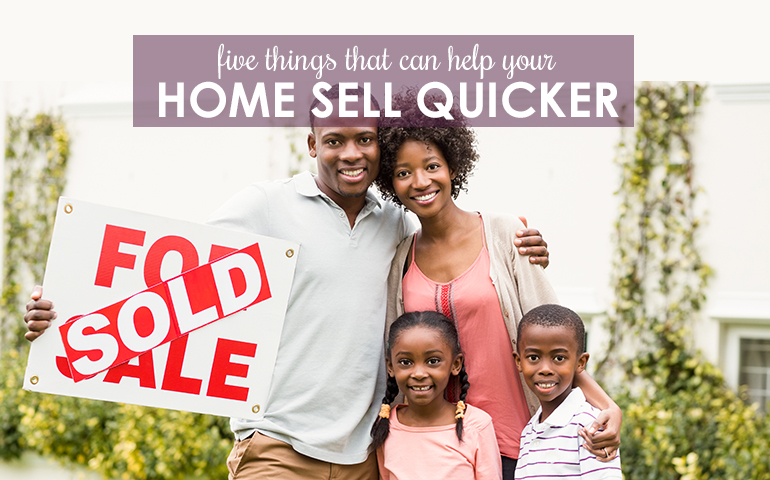 Five Ways to Help Your Home Sell Quicker in Any Market
As spring weather approaches, many homes will be hitting the real estate market. That's great for buyers everywhere, right? But, what if your home is listed among some stiff competition? You want to be as appealing to prospective buyers as possible.
Here are five things you can do to help your home sell quicker this spring:
1. Set the right price. The first few days on the market are crucial for a home, which means that setting the right price from the beginning is paramount. Of course, you want to get the most you can for your home, but you must be reasonable when you are setting a price. How can you strike the right balance when it comes to your listing price? Enlist the help of a trusted real estate agent, who can complete a comparative market analysis. Your agent can review similar homes in your area that have recently sold to make sure your home is accurately priced to sell.
2. Freshen the appeal. No matter what time of year you decide to list your home, curb appeal is important. If the exterior of your home does not look inviting, buyers may not even consider coming inside. In spring, your yard should be brimming with well-manicured new greens. A fresh floral wreath is also a nice touch to welcome prospective buyers once they reach your front door.
But, the appeal cannot stop outside your home. That freshness much be kept up inside too. This means applying a new coat of paint and making sure your home is clean and uncluttered—at all times—when buyers may be coming through. You want to give prospective buyers a clean palette where they can envision their future.
3. Make minor repairs. Note the word minor here. When you list your home, you may feel like you need to upgrade some features in order to quickly sell. In most instances, that is simply untrue. Instead of upgrading countertops or installing hardwood floors, just pay attention to the leaky faucets, discolored grout or drafty windows and doors. While high-end countertops and other fixtures are sure to entice buyers, they are not likely to pay off when it comes to your investment. However, a clean home in great condition is sure to appeal to every buyer, which plays well for sellers too.
4. Stage each room. When you're living in your home, you can do whatever you'd like with each room. Maybe you are using a spare bedroom as a child's toy room. Maybe you've turned your formal dining room into a casual game room. Let us repeat that when you are living in your home, those choices are great. But, when you're trying to sell your home, you're going to want to give each room a traditional purpose.
This tip goes for your listing photos too. If you want to sell your home as quickly as possible, it may pay to hire some professional help in staging each room. If that means you have to store some of your extra items--you know, toys or personal family photos—during your home sale, either ask a friend to hold onto some things for you or rent a storage unit for extra items.
5. Be flexible with showings. Finally, if you want your home to sell quickly—in any market—you've got to make it available to prospective buyers. In addition to holding open houses, you should try to allow buyers to see your home whenever it is convenient for them. This may not always be convenient for you, but it is likely to help your home sell faster. Since you could have buyers touring through your home when you're not expecting company, be sure to tidy up any time you leave the house. Make the beds, wipe down counters and put dishes away before you walk out the door each day.