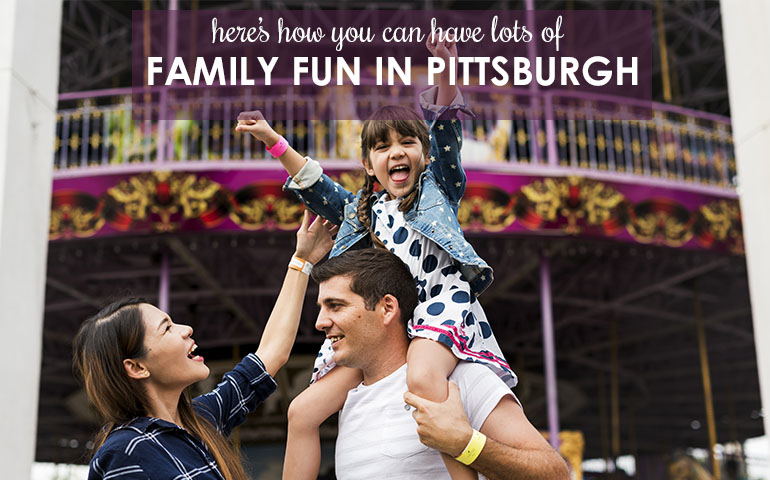 Five Ways to Celebrate National Family Fun Month in Pittsburgh
Summer vacation season may be winding down as back-to-school season creeps in this month. But, that is no reason for the fun to end. August is National Family Fun Month and Pittsburgh is the perfect place to find family fun!
Here are five fun things to do with your family in Pittsburgh before summer ends:
1. Walk on the wild side at the Pittsburgh Zoo & PPG Aquarium.
Where else can you come face to face with anteaters, elephants and even dinosaurs? At the zoo, of course! In fact, you can feed penguins, explore a safari and visit with 55 different animal species! This summer, the Pittsburgh Zoo is featuring a larger-then-life dinosaur excursion, too. Like to have a wild time with the whole family? Spend a day at the zoo!
2. Take a thrilling ride at Kennywood or catch a wave at Sandcastle.
Kennywood Amusement Park has been a favorite Pittsburgh tradition for many families since it opened in 1899. From the historic Jack Rabbit to the Phantom's Revenge to those irresistible Potato Patch fries, everyone in the family is sure to find something they love at Kennywood.
If you feel like the summer heat is simply too much for the family to take, head over to Sandcastle Water Park. You can spend the day splashing around in the wave pool, soaring down water slides and relaxing along the lazy river. There are rides and slides for everyone!
3. Root for the home team at PNC Park.
It may be one, two, three strikes and you're out when it comes to baseball, but take the family to PNC Park and you'll all feel like you've hit a home-run! There aren't many better baseball venues than Pittsburgh's PNC Park. And, nothing says summer and family fun more than enjoying a hot dog while you're rooting for the Buccos! Another perk? There is not a bad seat in the house! The view of the Pittsburgh skyline from PNC Park is unbeatable!
4. Explore the city like a tourist!
Just because your family may live in Pittsburgh does not mean that you wouldn't love to learn more about the city—especially if you can do it aboard a boat or a duck! You've probably seen the Gateway Clipper Fleet floating down Pittsburgh's three rivers. You may even have seen a Just Ducky Tour wading or waddling through the city. So, why not spend a fun day with the family and act like tourists? It's an awesome way to see some of Pittsburgh's historic sites!
5. Get interactive at the Carnegie Science Center.
Ok, we did mention that back-to-school time is right around the corner, so why not spark an interest in educational fun by taking a trip to the Carnegie Science Center? From astronomy to robotics to sports and more, the interactive Pittsburgh museum may make everyone in the family feel like a kid again. What a great way to enjoy National Family Fun Month and launch into the learning season!
Don't let summer pass you by without enjoying some family fun in Pittsburgh. Try one or all of these activities before National Family Fun Month is over!