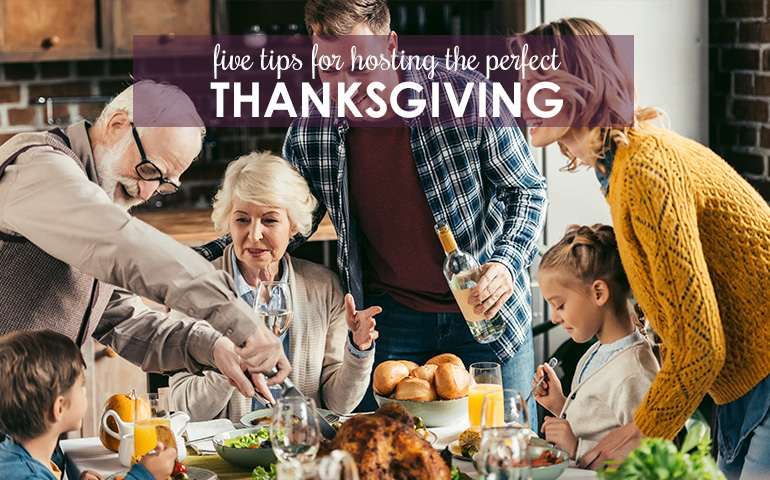 Five Tips to Hack Your Way to Hosting a Perfect Thanksgiving Day
If you've just moved into a new home in the Pittsburgh area, the chances are good that you may not be ready to host a major holiday this year. But, if you're a new Pittsburgh area homeowner who is happily settled in, you may be looking forward to hosting this year's Thanksgiving feast. If you are hosting the big day this week, you should know that you don't have to make it too hard on yourself.
Here are five Thanksgiving hacks for hosts:
Plan Ahead
Yes, there is still time for this! Finalize your Thanksgiving Day menu early this week. Many grocery stores are offering deep discounts on holiday staples right now, so make it a point to pick up needed items before the last minute. A great way to give guests a glimpse into your home life? By being prepared! (Even if you don't feel like you always are.) Have all your supplies on hand before your guests arrive. This way, you can spend your time cooking with family and friends instead of sending someone to the grocery store for last-minute must-have items.
Say "Yes" to the Slow Cooker
Whether you're planning to eat at noon or in the evening, cooking Thanksgiving dinner takes a lot of time. Why not make things easier on yourself? Cook favorites like mashed potatoes or green bean casserole ahead of time and warm them in a slow cooker. This way, they'll stay steamy hot and you'll have more time to carve the turkey when it is time for dinner.
Let Guests Serve Themselves
Thanksgiving is a time to enjoy your family and friends. So, instead of worrying about keeping their spirits (and we do mean that literally) filled up, let them serve themselves! Create a drink cart that is stocked with a few favorites like rum and vodka. Add mixers like tonic water, soda and fruit juice. Sure, you can worry about refilling the ice every once in a while, but make sure your guests feel welcome to mix up their own cups. Everyone will feel more relaxed!
Don't Forget the Kids
It's bad enough that most kids are seated at a designated "kids' table" during Thanksgiving. Don't make them feel like you've totally forgotten about them. Instead, give them something to do for the big day. Allow children to create place cards for dinner or pick up an activity-centered table cloth that children can color before it's time to feast.
Let Your Guests Help
When it comes to preparing the big feast, you need to know that you don't have to do it alone. It is OK to let your guests bring a side or to embrace their help when it comes to preparing Thanksgiving dinner. In fact, you may find that it is more fun to make such a big meal with your family and friends. Part of the fun of this day is being together and cooking a feast is a great way to keep everyone involved on Thanksgiving.
Whether you're cooking at home or even having your Thanksgiving Day feast catered, take time to enjoy the things you're thankful for! From all of us at Berkshire Hathaway HomeServices The Preferred Realty to all of you, Happy Thanksgiving to you and your loved ones!