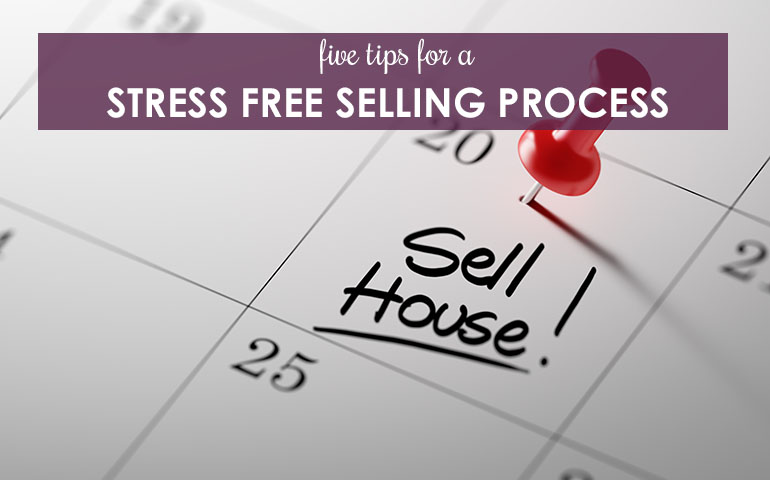 Five Tips for a Stress-free Selling Process
Emotions typically run high when it comes to the home-selling process. Excitement, nervousness, and anxiousness are just some of the feelings home sellers have. Rest assured, we have put together a list of the five best tips to have a stress-free selling process to put your mind at ease!
1. Set up your home to sell
When you first put your house on the market you want to make sure that it looks perfect before a showing. Start by decluttering your home and make sure that any cosmetic needs are attended to. It is very easy to spruce up your landscaping, rearrange your furniture to make your space look larger or add a fresh coat of paint to your walls.
2. Have a pre-showing process
Once you get a showing, have a set plan in place that is an easy checklist to follow. Home showings should not make your life more chaotic. The more showings you have you'll figure out a system as you go, but the earlier you can get it into place, the better. Clear spaces in your closets and drawers that you can quickly fill with items that are usually not stored but should be put away for showings, such as pet beds and toys, towels and robes, and mail. If you have pets, a good idea would be to take them to a neighbor's house or doggie daycare.

3. Don't take negative feedback too personally
Easier said than done, but don't take negative comments about your home too personally. Every prospective buyer is just trying to find their dream home, and the feedback could actually help you make minor changes that would help your home sell quicker. Take everything with a grain of salt and know that the home-selling process is all worth it!

4. Ask for a notice before showings
When you have a busy lifestyle, it's a good idea to ask for a couple of hours notice before your agent shows your home. This way you have time to go through your pre-showing checklist, rearrange your schedule and have a moment to prepare for the day.
5. Keep things in perspective
Don't let selling your house consume your life. You should make sure things are showing ready, but don't stress if things are not 100% perfect every day of the week. Consider using this time to take up a new hobby or try a new restaurant
Selling your home can be a stressful and exhausting time in your life. Don't hesitate to rely on the help of your agent. The Berkshire Hathaway HomeServices Northwood Realty Services team is here to help!