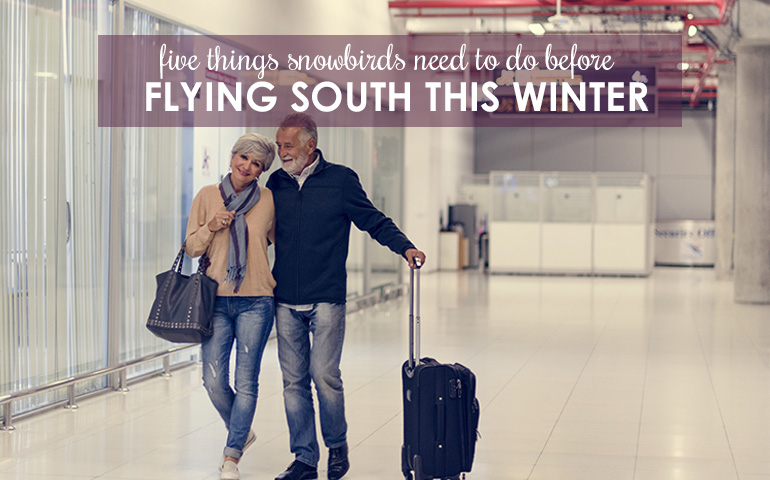 Five Things Snowbirds Should Do Before Flocking South This Winter
Admittedly, fall weather has been pretty kind to us all this year. But, for those homeowners who prefer a full escape from seasonal snow, the time is near to flock south for the winter. If you're ready to pack up and head toward warmer temperatures or waters, there are a few things you should do for your home before you go.
Snowbirds, add these five things to your to-do list before leaving your northern home this year:
1. Step Up the Security
Whether you'll be gone for one month or the entire winter season, the most important thing to think about is your home security. Of course, you'll let your neighbors know that you are leaving, but take one step further and ask a trusted neighbor to watch over your home. Give them a key or security code so that they can check on your house from time to time. Find someone to regularly shovel your sidewalks and driveway when it snows. Consider a home security system so that you can log in and check on your home while you're away.
2. Mind Your Mail
When you're relaxing in your winter home, the last thing you want to think about is your mail piling up at your northern home. Not only will you miss important bills, letters or other messages, but, you'll also be leaving a clear sign that you're not home. Instead of letting your mail carrier overflow your mail box, give your family and friends your new address and forward your mail or temporarily change your billing address for bills or other mail you don't want to miss.
3. Take Care of Your Utilities
You may not be able to completely cancel your cable and internet package during winter months, but you may be paying for extras that you don't have to carry while you're away. Also, be sure to regulate your heat, so that you're protecting your pipes from freezing during any winter storm, but not overpaying to heat your home. Again, this is a great reason to give a trusted neighbor a key—and the task of checking up on your home while you're away.
4. Leave a Light On
Or, two actually. Though you'll be away for an extended period of time, you do not want your home to appear vacant. Do away with that darkness by putting a few lights on timers throughout your home—indoors and outside. Though you may not be there, the appearance of activity could deter any would-be intruders from entering your home.
5. Make Maintenance a Must Before You Go
Don't want to worry about your HVAC system failing or a leaky roof while you're relocated for the winter? Have those vital home systems checked before you go. Calling in a professional to inspect your home's larger systems can give you some peace of mind while you're away this winter. Clear out any fall foliage from your gutters and unplug any unused appliances, too—just to be sure you won't have any surprises when you return from that seasonal sunshine.
What happens if you love that southern heat and hospitality so much that you decide to move south permanently? We can help! A trusted Berkshire Hathaway HomeServices The Preferred Realty professional will be happy to help you market your home when you are ready to sell.