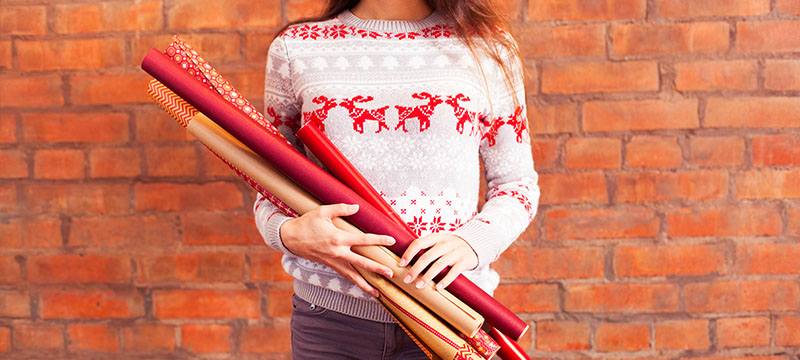 Five Holiday Storage Ideas for Undecking the Halls!
Though many of us still are enjoying the holiday season with family and friends, we know there is a not-so-festive thought looming in your minds… cleaning up all of the holiday décor you so diligently put up for the season.
Well, don't waste the rest of this merry time worrying about how you're going to stash your seasonal décor until next year. We've found five clever holiday storage ideas that will allow you to savor the rest of the season until it is time to do that dreaded undecorating deed.
Here are five convenient ways to cleverly store your holiday décor:
1. Aim for "Eggs-cellence"
If store-bought ornaments adorn your holiday trees, you are likely always looking for a good way to keep them shatter-free from year to year. Look no more! Instead, increase your egg intake… like now! Egg cartons are an "eggscellent" way to keep small, round holiday ornaments from getting squished while they're hibernating until next year. Egg cartons gently nestle ornaments until you're ready to pull them back out.
2. Reuse Amazon Boxes
Your Amazon Prime membership certainly can come into use after the holidays are over! Yes, you may still need to send a gift or two to long-distance family and friends. But, you also can use all of those two-day delivery boxes to store your holiday lights until next year, too! Cut up your boxes and conveniently wrap strings of lights around them for year-long, tangle-free storage!
3. Don't Give Leftover Ribbon the Boot
You know you've all got that one family member who goes to extra lengths to deck their gifts to the fullest. (It's ok; we barely got our gifts wrapped before the family gift exchange this year!) But, don't let that overzealous family member's hard work go to waste! Store even small bits of extra ribbon in a boot or shoe box and use it to adorn your gifts or décor next year!
4. Employ an Unused Garment Bag
Unless your career makes you a frequent traveler, we're guessing that you probably have an unused or barely-used garment bag hanging around your home. Give it year-round use by storing leftover wrapping paper in it and letting it hang in a rarely-used closet until the next holiday season. You'll be happy to have your holiday wrap all in one place and you'll even get a little satisfaction out of giving new use to a rarely-used item!
5. (Gasp!) Start Planning for Next Year
We know you can barely wrap your mind around the fact that the holidays have come and gone for another year, but you can get next year's decorating festivities off on the right foot by giving this year's undecorating ritual a bit of thought! If you find yourself packing room to room in those traditional plastic bins, do yourself a favor and label each one. Next year, when you find the "unpack first," "outdoor décor" or "kitchen" bins, your decorating time may be cut in half!
By all means, enjoy the rest of the magic that this time of year offers. But, when you're ready to undeck your halls, take a few of these clever holiday storage ideas to heart. Until next year, happy holiday storing to all… to all a good night!