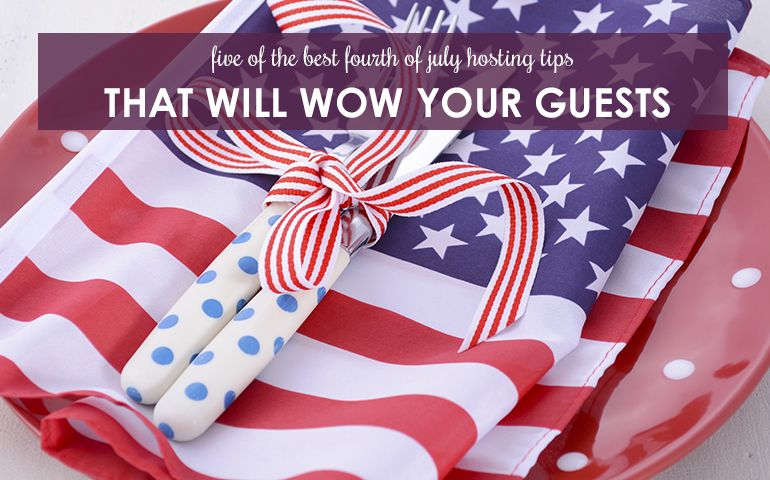 Five Best 4th of July Hosting Tips to Wow Your Guests
There are so many things to love about July. Summer is in full swing with backyard barbeques, bonfires, pool parties and the celebration of America's Birthday. When it comes to the 4th of July, the more festive the party the better. Whether you are just having a few friends over or a huge neighborhood party, these five tips will make you the perfect host for a party your friends will never forget!
1. Food
Nothing says 4th of July like hamburgers and hotdogs, try spicing up this quintessential cuisine with a fun spin on all the classics. Cajun Bacon and Ranch Sliders or a family style Strawberry Shortcake would be a great addition to your party. American Spirit Oreo Cookie Balls are an easy dessert to make. Coat with white bakers chocolate and top with red and blue sprinkles for the occasion. A Fourth of July party would not be complete without a little barbeque. Prepare a Southern BBQ dish and pair with some Cajun Shrimp Mac and Cheese for a delicious dish that your guests will love!
2. Refreshments
For fun and festive drinks that will pair perfectly with your cookout, look no further. Patriotic Punch is a drink your guests will go crazy for. Start by mixing blue Kool-Aid with cranberry juice, add ice and then cut the ends off a twizzler for a straw. Kids and adults will love it! For a more classic drink, make an old fashioned lemonade and add fresh berries for a refreshing twist.
3. Entertainment and Games
Corn Hole is an American Classic that all guests love, make the game patriotic by having red and blue bean bags. A fun idea would be to have a corn hole tournament for a little friendly competition among guests. You could also mimic an all-American fair by creating carnival games. Set up a ring toss, balloon darts, baseball throw and pin the stars onto the flag. You could have small prizes for the winners like red, white and blue rock candy! Water Balloon Dodgeball is a fun spin on a classic game. Divide up the group into two teams and fill up some red, white, and blue water balloons. If you get hit, you're out. The last one standing wins!
4. Decorations
DIY Decorations are an easy and cost-effective way to make your independence day party one the founding fathers would be proud of. Creating floral arrangements are a great asset to any home. All-white flowers like hydrangeas seem instantly American when presented in a vase that evokes the stars and stripes. Another great idea is to incorporate 4th of July paper lanterns around your home. These can be found at Target or Michaels for under five dollars! Hang the lanterns from trees for a makeshift outdoor chandelier.
5. Fireworks
What would the 4th of July be without fireworks? Pittsburgh is home to some of the best fireworks you can watch on the 4th of July. Pack up your family and head down to Heinz Field for the 18th Annual Fourth of July Celebration. Have fun at this free event with food, live music and a firework show you won't forget. Don't want to drive downtown? No worries, Mt. Lebanon's Main Park will be hosting a firework show with games, amusements, food and a free concert!
Whether you are trying to host the perfect party for a large crowd or just want to have a casual evening watching fireworks, these five simple steps will ensure that you have the best Fourth of July yet. Enjoy!!