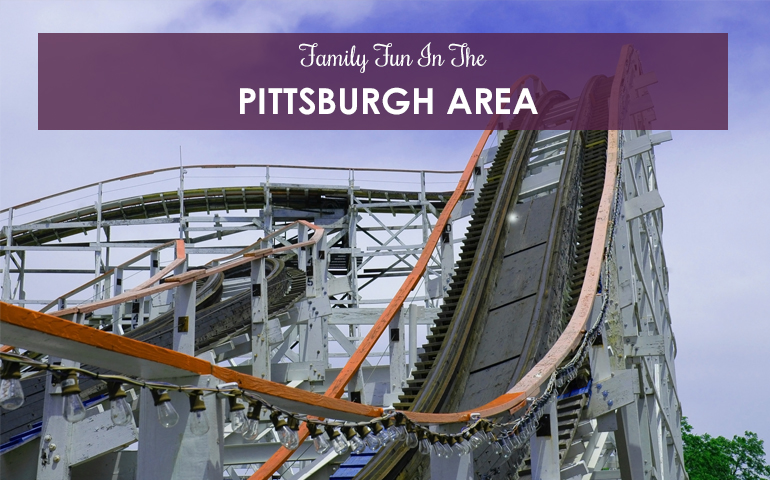 Family Fun in The Pittsburgh Area
Looking to plan some family fun activities to do in Pittsburgh? Look no further. Whether you are a thrill seeker, animal lover, or nature enthusiast, Pittsburgh offers various types of attractions that your entire family is sure to love.
Kennywood
Spend the day at Pittsburgh's electrifying amusement park- located in West Mifflin. With 7 roller coasters as well as a Kiddieland and plenty of other rides, it is perfect for all ages. In addition, Kennywood offers shows, dining options, gift shops, and games.
Click here to purchase Kennywood tickets!
Sandcastle
If you are looking for a way to cool off in the heat of summer, check out Pittsburgh's exciting water park! Sandcastle offers waterslides, children's areas, a wave pool, and a lazy river. There are plenty of dining options right within the park as well as event spaces and gift shops.
Click here to purchase Sandcastle tickets!
Phipps Conservatory and Botanical Gardens
Phipps Conservatory is a set of beautiful garden exhibits for guests to walk through and enjoy. In addition to beautiful views, you can learn a lot from your visit. Try out a summer camp, class, or film series to learn more about environmental topics.
Click here to purchase tickets to Phipps Conservatory and Botanical Gardens!
The National Aviary
The National Aviary is home to hundreds of bird species from all around the world. They have 4 habitats on display with birds from the Wetlands, Tropical Rainforest and Grasslands, as well as a penguin exhibit. For an extra special visit, you could include an animal encounter- an up close experience with a sloth, flamingo, penguin, or other animal.
Click here to purchase tickets to The National Aviary!
Pittsburgh Zoo and PPG Aquarium
For another exciting animal adventure, check out the Pittsburgh Zoo. Located in Highland Park, this massive zoo features over 4,000 animals. The aquarium, which is included in your admission, cannot be missed. It is filled with fascinating sea creatures, and even has a penguin exhibit.
Click here to purchase tickets to the Pittsburgh Zoo and PPG Aquarium!
Overall, there are plenty of great ways to spend a summer day in Pittsburgh. Whether you are visiting or a local resident, feel free to reference this post when you need some ideas for family fun!