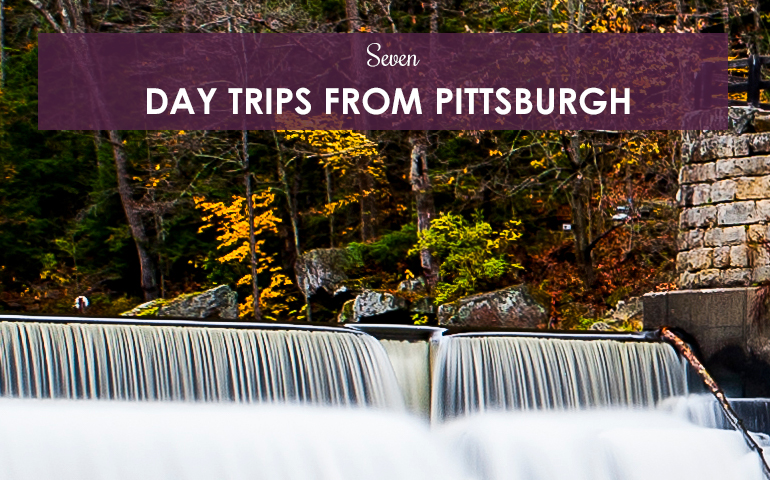 Day Trips From Pittsburgh
Now that the weather is changing, you may be looking to get out of your house and explore new places. Although some travel bans are still in place due to Covid-19, you can still enjoy a nice weekend or day trip to escape the city. Please be aware of the safety guidelines in place when traveling to another state or county.

Check out some of our favorite places below.
Ohiopyle State Park and Cucumber Falls
Ohiopyle State Park is known for its beautiful waterfalls and hiking trails that will keep you busy for hours. Although Ohiopyle is a fun place to visit year-round, there is plenty more to do during the summertime compared to the offseason. You can hike the trails, kayak or white water raft down the river and visit the stunning waterfalls.
If you plan on enjoying the beautiful scenery of Ohiopyle, you need to check out Cucumber Falls. Cucumber Falls is a well-known 30 ft waterfall in Ohiopyle known for its unique viewpoints. You can relax in the shallow pool below the falls or venture behind the falling waterfall for a photo opportunity. Ohiopyle is just under two hours away from Pittsburgh making it the perfect weekend escape.
Fallingwater
Just about five miles from Ohiopyle is Fallingwater, a home designed by famous architect Frank Lloyd Wright. Fallingwater is one of Wright's most widely acclaimed works leading to an influx of tourists every year. The home was designed as a weekend getaway home in Bear Run for the Kaufmann family, owners of the well-known department store Kaufmann's. Tours, lodging and dining information are all listed on the website: https://fallingwater.org/visit/tours/
Seven Springs
Seven Springs is more than just a ski resort! Seven Springs offers countless opportunities to get outside and spend time with family and friends no matter what season. During the Summer season, enjoy golf on the mountain, suntanning by the pool, ziplining, fishing and relaxing at the spa. Seven Springs is about an hour away from downtown Pittsburgh, making it a great getaway spot for everyone.
Lake Erie
Lake Erie's shores and islands are the perfect place to unwind for a weekend. Believe it or not, northern Ohio is home to beaches, amusement parks, waterparks, state parks and more! You can sit back and relax by the pool in Put-in-Bay or get your adrenaline pumping at Cedar Point amusement park in Sandusky, Ohio. Whether you're looking for a quiet getaway or an adventure-packed trip, Lake Erie has something for everyone! Check out this list for travel plans: https://www.midwestliving.com/travel/ohio/lake-erie-shore-trip-guide/
Pandemic-related closures and restrictions may be in place. Please check the destination's website before making travel plans.
Cleveland
Another Ohio gem is the city of Cleveland, just a little over 2 hours from downtown Pittsburgh. Cleveland, like Pittsburgh, has plenty to offer tourists like restaurants, museums, outdoor and indoor attractions, shopping and more. You can visit the Rock & Roll Hall of Fame, Cleveland Metroparks Zoo, the Botanical Garden and much more. You can pack an entire weekend full of fun experiences for the entire family.
If you're a football fan, you are going to want to plan your Cleveland trip for April 29-May 1 for the 2021 NFL Draft. The NFL Draft Experience will be free and open to the public around First Energy Stadium during all three days of the draft. To manage capacity, reservations will be required to attend the Draft Experience through the NFL OnePass app.
For more information on the 2021 NFL Draft and other events around Cleveland check out their website: https://www.thisiscleveland.com/
McConnells Mill State Park
There are many beautiful state parks in Pennsylvania, but without a doubt, McConnells Mill State Park is a fan favorite. From rushing waterfalls to historic structures, there are many great things to do in the park. McConnells Mill is home to one of the most beautiful covered bridges in Pennsylvania, perfect for a photo opportunity.
Hell's Hollow is the most popular waterfall at the park. A half-mile hike brings you to the top of the falls. It may not be the tallest waterfall in the area, but it's one of two on the map and is quite easy to reach and perfect for inexperienced hikers.
McConnells Mill State Park is the perfect place to hike, sight-see, fish, bike and more. The trip from Pittsburgh is a little under an hour making it the perfect spot for a day trip. Lodging and restaurants are close by for overnight guests.
Oglebay
Located in Wheeling, West Virginia, Oglebay Resort is the perfect destination for a weekend getaway. Oglebay is a great option for a low-cost family vacation only an hour away from Pittsburgh. Enjoy the many amenities the resort offers like golf, the West Spa, Good Zoo, segway tours, Aerial Challenge Course, horseback riding, and much more! Oglebay is currently running a special for Memorial Day weekend with plenty of family friendly events. To learn more, check out Oglebay's website here: https://oglebay.com/.

If you are interested in planning a little getaway trip during Spring or Summer, check out these affordable options nearby Pittsburgh. Whether you enjoy hiking through the wilderness or relaxing at the spa, you will definitely find something that excites you out of this list. Before booking any travel plans, be sure to check online for updated information regarding covid safety and restrictions.