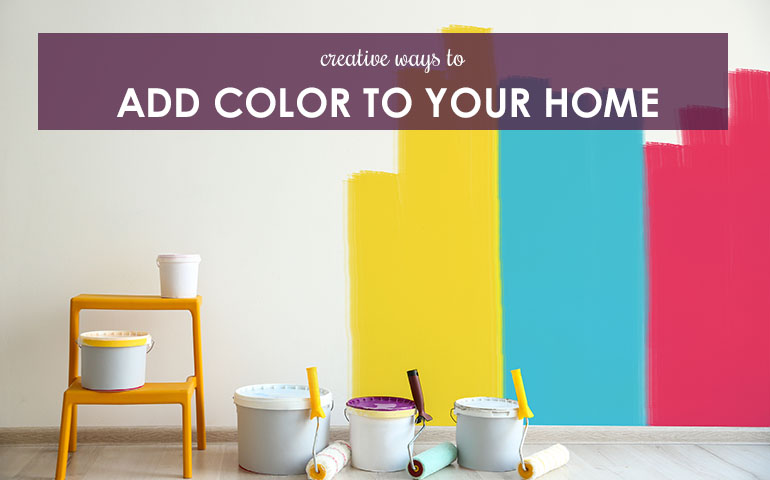 Creative Ways to Add Color to your Home
Do you think your house feels a little dull? Want to change things up? Try adding a pop of color in with your decor! Incorporating new colors into your home will totally revamp your space and add life without breaking the bank.
Paint the Front Door
Painting your front door will add a pop of color to the outside of your home. It will also increase the curb appeal of your home! The outside of the house, especially the front door sets the tone of your home and helps to add personality. Make sure that you choose a color for your door that is inviting and brightens up your entryway. Popular colors to choose are a deep red or light blue. You could even try staining it a darker wood color to help it stand out.
Add an Accent Wall
Try painting one wall in your home a different color than the rest. Accent walls are becoming more popular in home design. Painting one wall in your home a dark navy or pale blue will make your home pop. Next, add in some wall decor. Gallery walls are a great way to showcase both your family photos and decorations!
Add Color to Your Kitchen Cabinets or Island
Whether bold or more subdued, your kitchen cabinets can be painted any color. Cabinets do not have to be traditional white or wood colors. A new trend in kitchen cabinetry is to paint them an accent color. You could even paint the base of your island a contrasting color of the rest of your kitchen for something different!
Use Plants or Flowers to Add a Pop of Color
Plants and flowers are a great asset to any space in your home. They brighten the room and some plants can even purify the air, boost your mood, and are sure to make the space look great. Popular indoor plants such as ficus, fiddle leaf fig tree or a jade plant are easy to maintain and a great choice for busy homeowners. Make sure they are getting some sunlight and are watered once a week to keep them looking healthy!
Recover or Paint Your Furniture
Chalk painting your furniture is a great way to add color to your home and is a relatively easy process. Adding a new color even to some old chairs can transform your room dramatically and brighten up your space. An older sofa or loveseat that may have faded, earned a few stains or seen better days but it still structurally sound can benefit from a new slipcover. Recovering or repainting a piece of furniture is a simple way to add a pop of color to your space.
Adding color in any way will brighten up your home and make it feel like your own. You can go bold by painting all your cabinets a fun color, or keep it minimal by adding in some greenery. Either way, your home will look great with some new color additions.