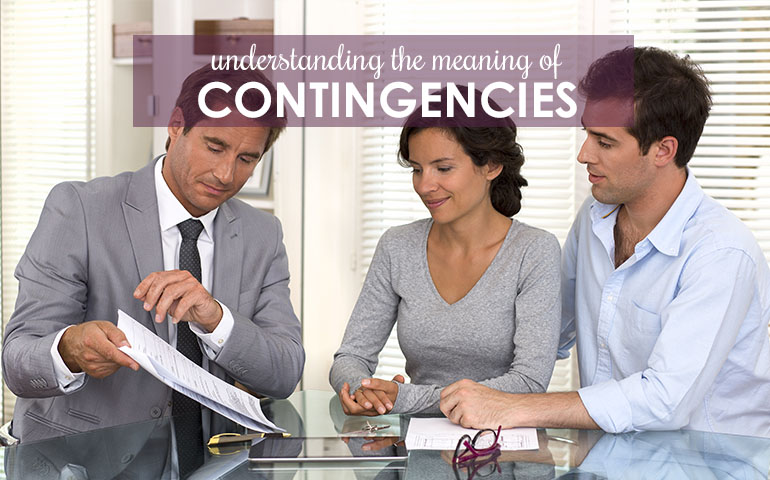 Contingent Offer, Contingent Sale... Contingent Confusion? Here's Help!
When it comes to real estate transactions, the word "contingency" is common speak. However, that one simple word can carry several different meanings for both buyers and sellers. There are home sale contingencies, home inspection and appraisal contingencies and, even, mortgage contingencies.
So, when that word "contingency" comes up in today's real estate market, what can it mean for buyers and sellers?
Home Sale Contingencies
In many cases, when a contingency is attached to a home sale transaction, it comes along on behalf of the buyer. Many buyers, who already own a home, want to begin to search for their next home before they've completed the sale on their current home. Enter… a home sale contingency. In this instance, a buyer's home offer is contingent, or dependent, upon the sale of their current home. To break it down even further, a home sale contingency clause can work in a couple of different ways for buyers and sellers:
A sale and settlement contingency clause can be put in place if a buyer has not yet received and accepted an offer on their current home. This type of contingency allows buyers a little more time to market their current home without the fear of losing a home that they've made an offer on.
Even under a sale and settlement contingency, a seller may be free to continue to market their home. If they receive another offer, buyers often can opt to remove their contingency before the seller may accept that offer, thus terminating the contingency clause. If they do not, sellers can terminate the sales contract, in lieu of the other offer; but, sellers typically must return any earnest money that a contingent buyer has put down.
A slightly simpler contingency clause is a settlement contingency, which can be put in place when a buyer has already accepted an offer on their current home, but is navigating through the closing process. Again, this clause can protect buyers from losing any down payments they put on a home, if their own closing process falls through. Basically, if the buyer's current home sale goes to close with no issues, the new contract moves forward as planned. Under a settlement contingency clause, if a buyer's current home is held up or falls through for any reason, sellers are typically prohibited from accepting other offers, at least for a specified amount of time.
Certainly, home sale contingencies can protect buyers during real estate transactions, but if a seller's home has been on the market for an extended period of time, they may find a contingent offer to be an attractive option. Sellers also can protect themselves from contingent offers that may fall through by verifying how serious the offer is. With the help of a trusted real estate agent, sellers can confirm that their potential buyer has listed their home for a reasonable price. Sellers also can check the potential timeframe of a buyer's sale by comparing recent home sales in the area.
Home Inspection and Appraisal Contingencies
Undoubtedly, home inspections and appraisals play a vital part in the closing process of every home purchase. So, it is not uncommon that buyers may want to make offers that are contingent on the outcomes of these two important steps. Both home inspection and appraisal contingencies allow buyers to back out of home sales if something is critically wrong with a house or if the appraised value is less than the seller's asking price.
Particularly, with appraisal contingencies, buyers may still want to purchase the home, even if the appraisal comes in low. However, lenders will only fund the amount of money that covers the appraised value, which can leave buyers paying more out of pocket if they decide to move forward.
Mortgage Contingencies
Buyers who obtain loan pre-approvals may effectively eliminate most mortgage contingencies; but, this type of contingency clause can be put into place to allow a buyer a specified amount of time to secure a mortgage for a home that they've made an offer on. Under a mortgage contingency clause, a buyer's deposit is protected if they are unable to secure a home loan and have to walk away from a sale.
Although not every real estate transaction may carry a contingency, it is very common for an offer to come in with some sort of contingent clause. Understanding how they can work and affect both buyers and sellers is a vital part of ensuring that contingencies do not unnecessarily slow down or stall a home purchase transaction.
To further discuss how contingencies may affect your home sale or home purchase, contact an experienced Berkshire Hathaway HomeServices The Preferred Realty real estate agent today.