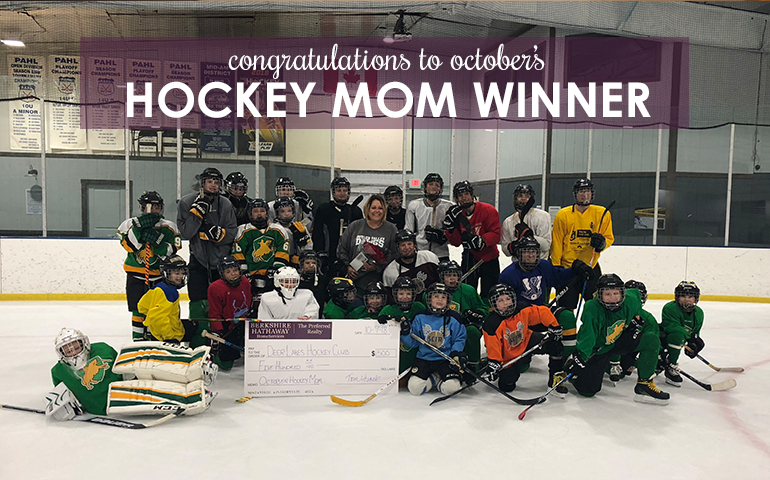 Congratulations to the October 2018 Hockey Mom Winner!
Congratulations to Berkshire Hathaway HomeServices The Preferred Realty's Hockey Mom winner for October, Kristi Minnick. As the first Hockey Mom winner of the season, Kristi takes the word "volunteer" to a whole new level.

Kristi is the mom to one son, Keaton, who plays ice hockey for the Butler Valley Dawgs (Squirt One Team) and Deer Lakes Hockey Club (Developmental Team) where she is an integral part of the club serving on the Board of Directors as the Director of Fundraising and the Director of Social Media. But what Kristi does for the Deer Lakes Hockey Club (DLHC) goes beyond her title. She runs the hockey equipment exchange programs, hosts informational tables at each of the school's open houses, runs spirit wear and hoagie sales, organizes bingo events with Chinese raffle baskets, and runs spaghetti dinners all in hopes to raise money for DLHC so that more kids will be given the opportunity to play ice hockey for their school.

Kristi's work has been able to transcend across the organization and the age groups in many ways including taking "action" pictures of all the kids on the Varsity and Junior Varsity teams and organizing the first ever ice hockey float for this year's Homecoming parade.

In addition to being able to offer her son, Keaton, the opportunity to play ice hockey, Kristi and her husband, Randy, have also opened their hearts and home to welcome in 19-year-old Junior Hockey player, August, from Sweden. Being a billet parent is a commitment. You not only open up your home to these young players, but it also means you become an extended family for these out of state or out of the country players. For Kristi, the decision to become a billet parent was easy. She treats August as if he were her own son making him lunches/dinners for away games, driving him to the rink several times a week, and even loaning him her car so that he can get around. Without people like Kristi, young players like August would not have the chance to play ice hockey here in Pittsburgh for teams like the Vengeance.

With all the activities above, Kristi also works full-time for WESCO where she has been for the past 20+ years and serves on the Deer Lakes School Board where she attends many different events in the school district taking pictures and posting information on the district's social media.

Congratulations to Kristi for going above and beyond for the kids in your community and those within the ice hockey family.