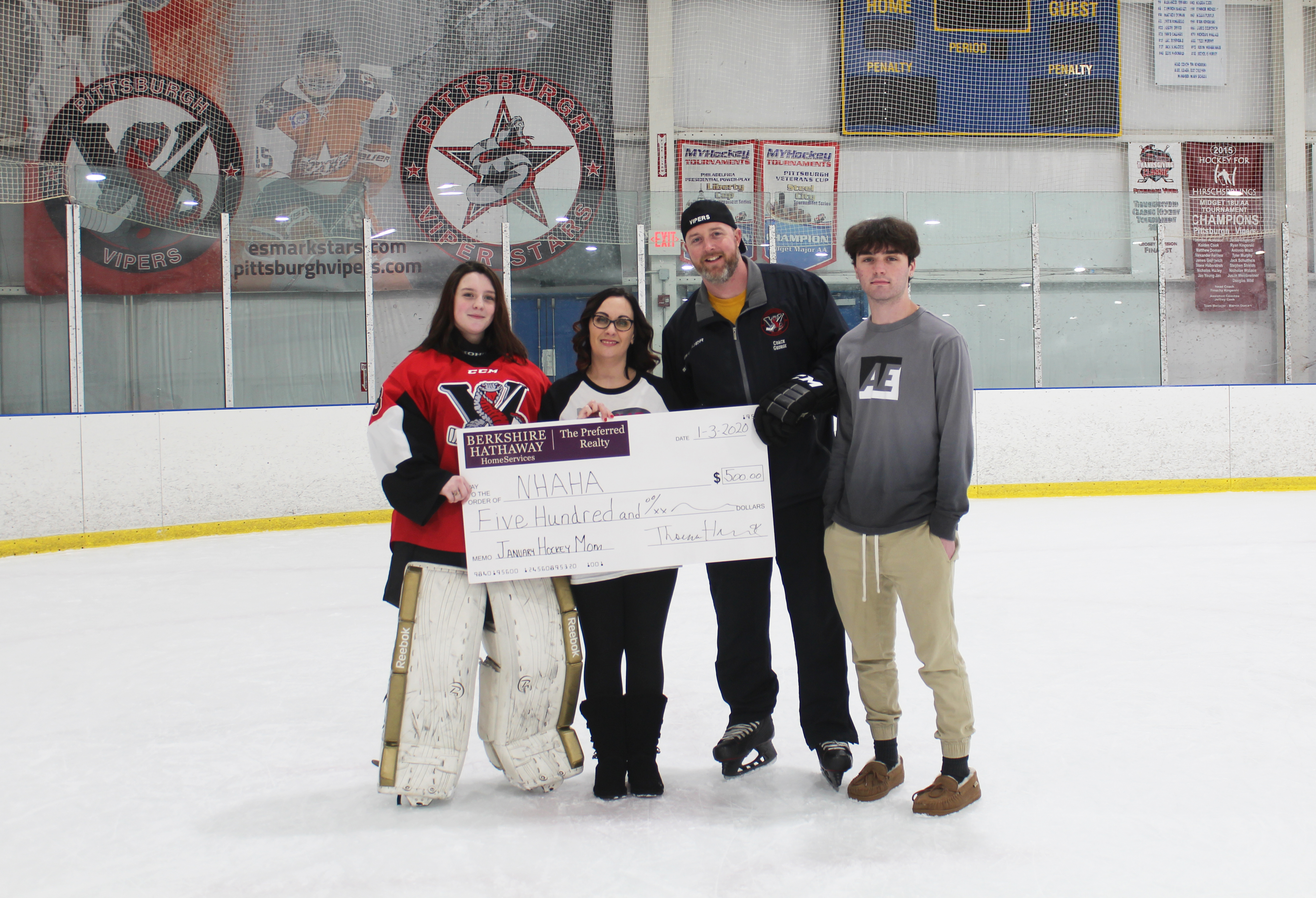 Congratulations Christine George - January 2020 Hockey Mom Winner
Congratulations to our first Hockey Mom winner of 2020, Christine George, from the New Kensington/Lower Burrell area. Christine wears many hats in her hockey association and the hockey world in general.

She runs several programs for the North Hills Amateur Hockey Association (NHAHA) where she is Team Manager of her daughter's Viper Stars Pee Wee Amateur Hockey Team, Aramark Volunteer Coordinator, and Vice president of the Vipers organization. Christine is also Team Manager for her son's varsity hockey team at Burrell High School and statistician for the Pittsburgh Amateur Hockey League (PAHL).

In her role as Aramark Volunteer Coordinator for NHAHA, Christine provides the opportunity for all Viper families to volunteer at PNC Park during Pittsburgh Pirates games and other events to help pay for their hockey fees. The program requires a lot of organization and training for parents who wish to partake in the opportunity.

Christine is also starting a new program that is near and dear to her heart. It is The Helping Hands Foundation. Christine's goal with the foundation is to help support those in her hockey family that are experiencing hardship. She is working to build a surplus of funds so that those families that are experiencing a loss of a parent, long-term illness of a parent or other casualty can continue to play hockey. The foundation is Christine's heart and soul and this is where she is placing the $500 donation she received being named January 2020 Hockey Mom of the Month.

Between wearing all those hats and running back and forth to hockey practices/games, Christine works as a front desk receptionist for a local dentist, and amazingly, still finds time to volunteer at her local church, St. Margaret of Mary, making food for their fundraisers.

Congratulations to Christine George for going above and beyond for the hockey community and those in need!


Do you know a hockey mom that goes above and beyond for her organization and the community? We want to honor her! Nominate your favorite hockey mom at www.pittsburghpenguins.com/hockeymoms to thank her for all her hard work.