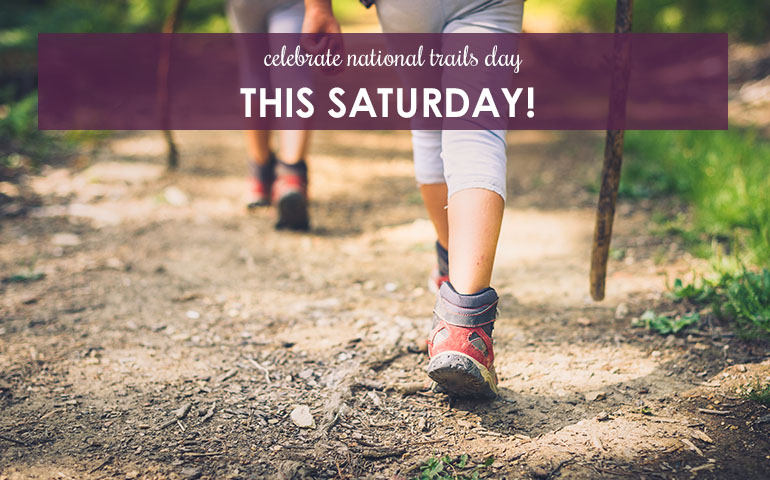 Celebrate National Trails Day This Saturday!
The first Saturday in June is National Trails Day, which paired with the nice weather this weekend should be the perfect excuse for you to get out of the house, celebrate nature and enjoy some time in the great outdoors! The Cleveland and surrounding areas have some of the best places to hike, bike, and escape your daily routine! Check out the best trails in the area below.
Escape the hustle and bustle of the city without driving too far! The Gorge Metro Park offers spectacular views of the Cuyahoga River, along with great hiking trails and rock formations. There is no better place to spend your day enjoying the nice weather, hiking, and being in nature!
The trails of Black River Reservation are the star of the show in Lorain County Metroparks. Just 35 minutes south of the city, you can engulf yourself in nature's simplistic beauty in this reservation. Find your way towards the Bridgeway Trail where you can run, walk, hike, or bike across the 1,000-ft. bridge with views of the river.
Grab your pets and head out on a bike, walk or hike to Fort Hill Earthworks! This trail is a 4.2-mile loop trail located near Cleveland, Ohio that features beautiful wildflowers and is rated as moderate difficulty. The trail is primarily used for hiking, walking, running, and nature trips and is accessible year-round.
The Huntington Reservation Trail, right off of the shores of Lake Erie and west of downtown, is one of Cleveland's great outdoor locales. Many people flock to Huntington Beach in the summer months, but the trails next to the beach are also a great way to spend an afternoon. There are beautiful views of the lake, and if you look hard enough, you can even see Cleveland's skyline. Bring the whole family for an evening at the beach after a long day exploring the woods.
See Lake Erie from a whole new angle, hike along the paths of Lake Erie Bluffs. There are 600-acres of open spaces for hiking, fishing, and beach bumming. Spend the entire day discovering views on the bluffs to see the Lake in a whole new light.
This weekend, get out and enjoy some of the best trails Pennsylvania has to offer! Before you head out, pack a bag and download the All Trails App on your phone to stay up to date with open trails and ability levels. Another great app to use is Strava! Track your mileage and see what your friends are up to with the social features!