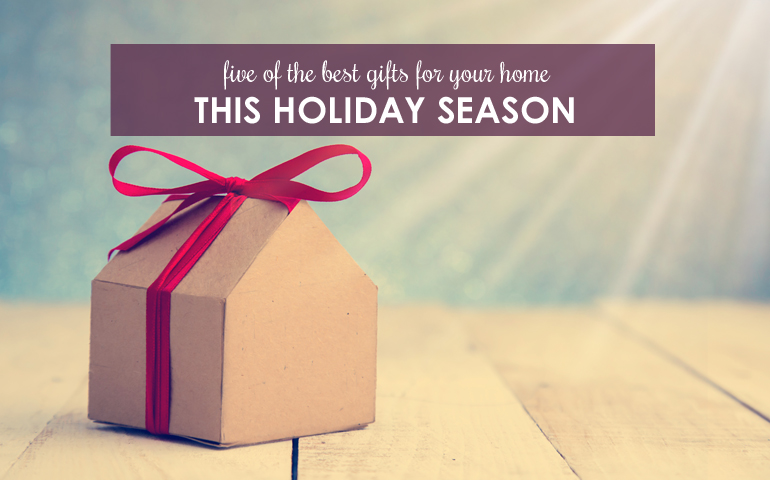 Five of the Best Gifts for Your Home This Holiday Season
Your parents, check. Your kids, check. Your spouse, check. Your home? What?! As you're completing your holiday shopping this month, there are some obvious gift recipients on your list. But this year, we're suggesting that you add your home to your "nice" list when it comes to making holiday purchases.

Why? Now is a great time to stock up on some of the very best smart home items on the market. Frankly, it's tough to beat holiday sales, so if you've been wanting to add some new technology that will provide greater control and savings for your home, now is a great time to do so.

Here are five of the best smart home gifts on the market this year:

1. Amazon Echo Dot – For well under $50, you can equip your home with a speaker that can pair with your mobile phone, predict the weather and control other smart devices around your house. Alexa can even tell you jokes! With this smart technology, you can manage your home from nearly anywhere – hands-free! If you haven't already added Alexa to your home, the holiday season is a great time to do so. If Alexa is already a part of your family, consider adding another one and pairing the two together for even greater sound.

2. Smart Plugs – Today's technology will allow you to control pretty much anything you can plug in. Put your lights, fans, and appliances on a schedule that will allow you to save energy and money all year long. Smart wall plugs allow you to control your outlets after merely downloading an app. Add one or several to your home this holiday season to boost your energy savings.

3. Smart LEDs – Are you the type of person who always forgets to turn off a bedroom or hallway light? Smart LED light bulbs will help make sure that your forgetfulness is not costing you in energy bills. These intuitive bulbs use less energy and are controlled through an app. Talk about saving the physical and mental energy it takes to control your light bulbs! Stock up on smart LEDs before holiday sales are over.

4. Nest Hello – This smart doorbell might seem like a bit of an excessive purchase during the holiday season, but there is something to be said about keeping an eye on – and answering – your front door, whether you are at home or hundreds of miles away. This 24/7 streaming device certainly doubles as a home security system too. If you've wanted to pick one up, keep an eye on retailer sales and start enjoying the benefits today.

5. Sonos Speaker – Whether you're looking to enhance your home with surround sound for a big football party, or simply trying to enjoy a quiet night at home listening to holiday carols, Sonos offers incredible technology that is sure to surpass your expectations. This speaker pairs with pretty much every music service out there can be controlled by app or voice and is even humidity resistant. Start off with one speaker or add more than one to create a sound system for your entire home.

By now, you've probably noticed a trend when it comes to new gadgets for your home – smart technology. Embrace these new items and begin to enjoy greater efficiency and savings at your home today.