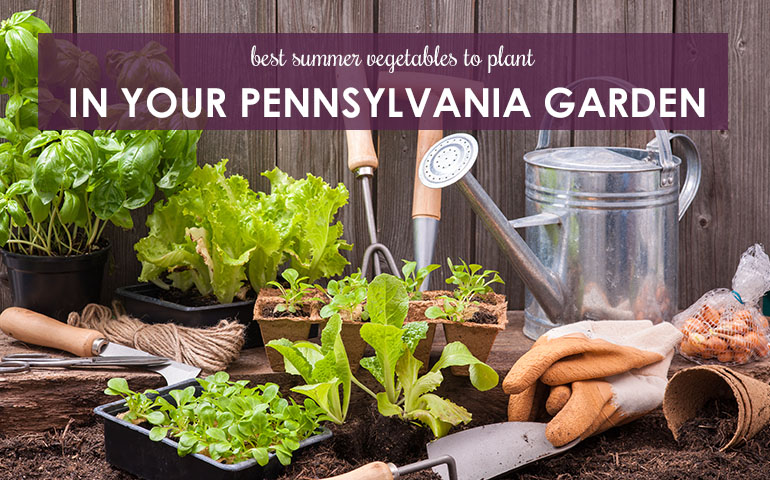 Best Summer Vegetables to Plant in Your Pennsylvania Garden
Growing a vegetable garden is a great way to bring fresh, nutritious veggies to your table. Knowing where your food comes from is just one benefit of home vegetable gardening. You'll also save money by buying less from the grocery store and if you have kids, vegetable gardening is a fun way to get the whole family out in the fresh air and sunshine. If you are a beginner at vegetable gardening, or a seasoned professional, there are so many fresh veggies to plant in your Southwestern Pennsylvania garden this season!
Cucumbers
Now is a great time to plant your cucumber seeds in your vegetable garden. Just push two or three cucumber seeds an inch into the soil, spacing the plantings 18 to 36 inches apart. If the soil is moist and warm, the seedlings will pop out of the ground in a matter of days. After your cucumbers are ready to harvest, you can create a brine and make your own pickles!
Tomatoes
Tomato plants tend to do very well in the garden from May through August in Pennsylvania. They love a lot of sun and a good amount of water. It is also a good idea to build a fence or plant your vegetables in an enclosed space to prevent pests and deer getting to your food before you can enjoy it!
Peppers
Both hot and sweet bell peppers are easy to grow and have few in-the-garden problems. Peppers grow up, so they only need to be planted about 18 inches apart and will need at least 6-8 hours of sunlight per day. Water immediately after planting, then regularly throughout the season for a great crop of peppers this summer season.
Green Beans
Most green beans should be planted after the soil warms and the danger of frost is gone, so now is the perfect time to plant in Pennsylvania. Green Beans are typically hassle-free and need to be planted about an inch deep in the soil. As a rule of thumb for planting, plan for about 10 to 15 green bean plants for each person in your household. When they are mature, grab from the garden and enjoy a great dinner side!
Lettuce
Lettuce is great for the garden but also makes a fantastic container plant. It produces a shallow root system and can be grown in herb gardens, window-boxes, pots, fabric planters, baskets, or any container that is at least four to six inches deep and has drainage holes. Perfect for the person who wants fresh produce and doesn't have a ton of space
If you are in an apartment or a home that doesn't have much land, you don't have to feel left out! If you have a balcony or small patio, you can grow plants like tomatoes, lettuce and peppers in small planters. Just make sure they are getting enough sun!
This season is the best time to take your gardening to the next level or start a garden if you haven't before! Having fresh veggies and herbs is one of the best things you can do to save money, keep busy and bring fresh ingredients to your table!