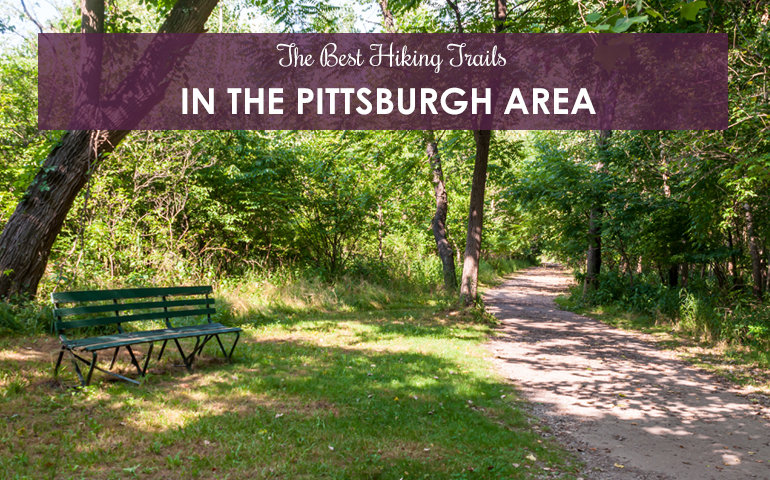 Best Hiking Trails In The Pittsburgh Area
Pittsburgh and its surrounding areas have more than its fair share of great hiking spots. September is the perfect time to get outside and enjoy the last of the beautiful weather! Planning your next outdoor adventure just got a whole lot easier because we have found the best trails and hiking spots for your next fall trip!
Moraine State Park (Varies by Trail)
Enjoy your day biking, hiking, and swimming on your next trip to Moraine State Park. Lake Arthur is the centerpiece here, a massive body of water perfect for floating and fishing. Hikers can enjoy various treks, including the more difficult Glacier Ridge Trail. Moraine State Park offers a variety of different trails to hike for all skill sets.
Frick Park (Varies by Trail)
If you want to take a hiking day trip, but also want to stay close to the City of Pittsburgh, Frick Park is your spot. Walk, hike, or mountain bike the 9 different trails around the park. Play with your pup, or make your way down to the Nine Mile Run Watershed—there's no shortage of sweat-inducing, outdoor activities that are still within the city limits.
Ohiopyle State Park (Varies by Trail)
Spend a weekend at Ohiopyle State Park! One day will not be long enough to fully explore the park, waterways, and trails totaling almost 80 miles in all. Natural waterslides, whitewater rapids, mountain biking trails, and rock climbing areas round out the list of things to do. Consider camping overnight to experience all Ohiopyle has to offer!
Rachel Carson Trail (37.5 miles)
The Rachel Carson Trail spans 37.5 miles between Harrison Hills County Park in Northeast Allegheny County to North Park in north-central Allegheny County. The terrain is varied, including some paved roads and other areas that are steep and rugged. The trail will also lead you to the mansion at Hartwood Acres.
Laurel Highlands Trail (70 miles)
Experienced and well-conditioned hikers will enjoy the challenges presented by this 70-mile backpacking trail stretching from Laurel Mountain at Ohiopyle to the Conemaugh Gorge near Johnstown. This trail has a lot of different options for any level of hiking from beginner to expert.
Fall Run Park (1.4 miles)
If you're new to hiking and want to start off small, the trail at Fall Run Park in Glenshaw may be a good option for you. The main hiking trail leads to a waterfall that is the focal point of the park, with a 25-foot drop that you can experience from ground level or above. The trail itself is fairly wide and easy to walk on making it perfect for beginners.
Panther Hollow Trail (1.9 miles)
If you are looking to stay close by, consider hiking the Panther Hollow Trail in Schenley Park. This dirt path through the park offers beginners, families and kids an easy and accessible path that's full of natural scenery. This trail is one of the less crowded hikes in Pittsburgh, so it's a wonderful escape without actually leaving the city.
There is no better time to spend your Saturday hiking and enjoying the fresh air. When you are planning your next hiking trip, be sure to consider one of these great hiking spots and use the All Trails App to find new and exciting trails!