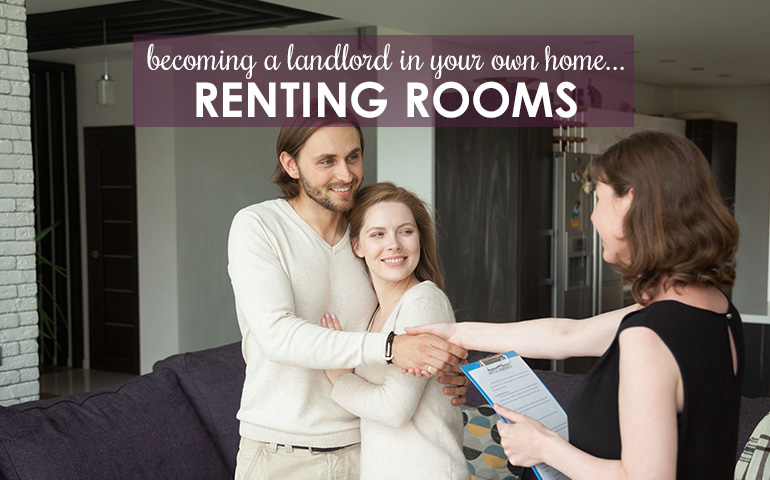 Become a Landlord in Your Own Home – Tips for Renting Rooms
As you prepare to welcome 2018, you may be thinking about embarking on some new adventures. If you've resolved to become a landlord next year, that goal could be easier to reach than you think. In fact, instead of buying a second property to generate extra income, many homeowners are turning their own homes into income properties – while they're still living in them!
In many of today's markets, it is becoming more and more common to rent out rooms in your own home. If you've got extra space in your home, you could consider renting it out on a short-or-long-term basis.
Are there perks to turning your primary residence into a rental property? Well, obviously, you'll gain extra cash you wouldn't have had. You also may be able to help someone who needs somewhere to stay, whether for two months or six or even more… depending on the terms you agree to.
Speaking of rental terms and other specifics, how do you even go about renting out a room in your home? Here are a few tips that will help you get started:
1. Prep your home. Inviting someone to share your home takes a lot of trust—and preparation. You'll need to decide which room or rooms you'll be giving your tenant access to. Once you do, you'll want to grant and restrict access to areas in your home by changing the locks on interior and exterior doors. You may also want to lock up any valuables or private documents you don't want to share. Prepping your home also means addressing any maintenance or visual appeal issues that you have been holding off on. You want to attract tenants to your home, so you need to make sure it is looking its best!
2. Understand the rules (and make some of your own). Though you will be renting out your own home, landlord/tenant laws will still apply, so you need to make sure you thoroughly understand your legal boundaries before you invite tenants to share your space. Additionally, you need to set up some of your own policies on rent, utilities, pets and visitors. Because you'll be sharing space in your own home, you need to decide how you'll share rooms like the kitchen and bathrooms, too. Once you decide on the new living arrangements, put them in writing! Like any rental agreement, it is best to have everything in writing up front.
3. Advertise price, perks and preferences. After you've figured out what kind of living arrangements will work in your new rental space, you need to determine a rental price. You can determine a fair price by checking out other available rental properties in your area. Compare what you're offering to what you see currently advertised. Then, get to advertising your own space! Showcase your home's perks with a few great listing photos and be specific about the tenant you'd like to attract. If you're looking for a non-smoker with no pets who needs a place to stay for at least six months, put it in your advertisement. Being specific will help you attract a compatible roommate.
4. Conduct interviews. When you're renting out a room in your home, you'll want to take great care in selecting your tenant. As you're interviewing potential candidates, ask questions to make sure you find someone who will take care of your property like it is their own. Be sure to ask for (and check with) references. Show potential tenants living areas in your home, but don't give too much private information away. No one needs to know your personal work schedule or where you keep the extra keys when you're simply giving a tour of your home.
5. Select and vet compatible housemate. Once you think you've found a great tenant, do your due diligence and double-check. Conduct a criminal background check and credit check to make sure there are no surprises when it comes to your housemate. The criminal background check will give you an added sense of personal security and the credit check may help give you some financial assurance that your tenant will be able to regularly pay the rent.
Finally, after you've set up all of your terms and found a roommate who you think meets your expectations, get ready to share your home – and the costs of owning it! After all, renting out a room in your home may be a small sacrifice with a big return for you in 2018. Here's to exploring new adventures in the new year!
Are you on the opposite side of this situation? If you're looking for a place to rent in the coming year, we can help. Explore rental listings with Berkshire Hathaway HomeServices The Preferred Realty today.