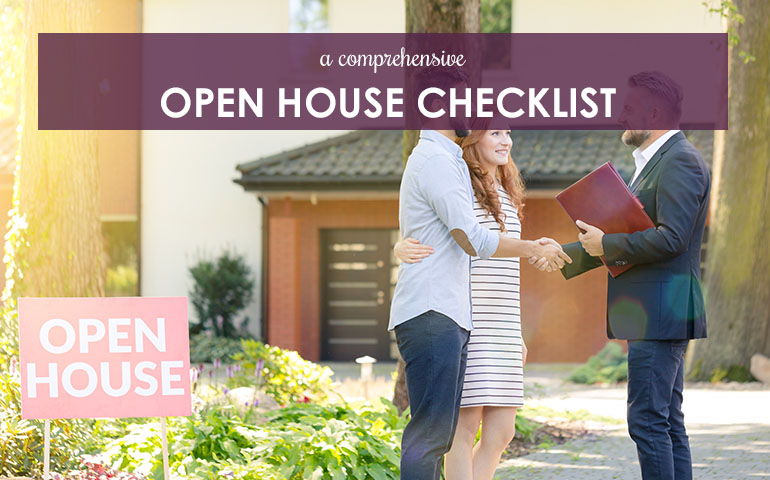 A Comprehensive Open House Checklist
By: Dianne Cassidy

Getting your house ready for the big sell can be challenging. Although most home listings are available on the internet, open houses are still a major lure for homebuyers. They want to see the real thing. Preparing the house and property for visitors takes a little "fixer up" time and money, but welcoming potential buyers with a little hospitality goes a long way toward making a sale. Make a checklist and work the plan, so you don't leave anything out.
On the Outside
Curb appeal is the beginning of the open house tour. Mow, water, fertilize, and weed your lawn weeks before, or hire a lawn care service. Most homeowners in Cleveland mow the lawn biweekly and water three times a week. The yard is the first thing people see. Trim all bushes and trees, so they don't block windows. Plant native flowers or place floral containers on the front step. Remove weeds from shrubbery beds. Spruce up the place by staining shutters and handrails, replacing the mailbox and old light fixtures, and painting the front door. In fact, a black door can add as much as $6,000 in value to the selling price.
In winter, especially when we see plenty of snow and ice, be ready! Shovel the driveway and walkways. Have outdoor salt handy to treat the front steps for ice. Adequate parking is a plus: If you normally park your vehicle in the driveway, move it to the street. Consider asking a neighbor if you can direct traffic to their driveway.
Clean up the backyard by removing trash and broken lawn furniture. Scrub down pools, fountains, and barbecue grills. Wash all windows.
The Inside
Greet your visitors with a "welcome" doormat, coat stand, and umbrella container. The smell of freshly baked cookies is a treat. Leave a few out for your guests.
Clean the house and remove the clutter. That sounds simple but too much dust and debris won't allow the buyer to envision his or her own items in place. Polish wood surfaces, shine up metal accents, open the blinds and windows, turn on lamps and overhead lights. It's also a good idea to remove all valuables from the house.
You should also:
Have the carpeting professionally cleaned.

Clean off the kitchen countertops and appliances.

Clean out closets and move some items out of the house completely. The less cluttered it looks, the bigger it will seem to buyers. Remove collectibles, excess furniture, artwork, and personal photographs.

Clean the fireplace.

Dust the walls and remove hard-to-see cobwebs from corners. They may be nearly invisible, but you'd be surprised at what can accumulate in these areas.
Basic Repairs
You've been putting them off but now is the time for these projects, whether you do it yourself or hire a handyman.
Clean and align gutters and downspouts so that rainwater drains properly. Inspect the roof and replace worn out shingles. How is the chimney? Check on that, too.

Repair cracks and crevices as needed in the building foundation. Replace broken switches and light fixtures.

Apply fresh beads of caulk to windows, tubs, sinks, and showers. Clean the toilets!
We're all connected to our phones, computers, smartwatches, and tablets these days. Wire the house for WiFi and provide a password for guests to use. Designate an area for charging phones. it lets visitors know that you understand the technological needs of today's homebuyers. If you have a few "smart" products, show them off!
"Alexa, unlock the front door and let the showings begin!"

Dianne Cassidy stages home renovations for today's housing market. She enjoys creating computer-generated animation and three-dimensional building models.