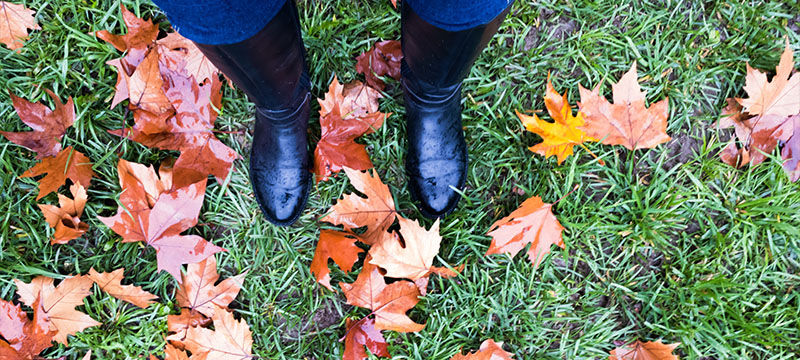 Forget the Garland for Now: Prepare Your Yard for Winter
OK, already! We know 'tis the season for hanging holiday lights, stringing garland and possibly even putting up that inflatable snowman that your children can't seem to get enough of. Before you go crazy decking your home's exterior with holiday cheer, make sure you don't forget about a few important maintenance must-dos that will protect your lawn long past the holiday season.
Here are five easy steps to prepare your yard for winter:
1. Rake: Though Mother Nature has been pretty gentle on us so far this fall, if you haven't been diligently keeping up with her beautifully fallen hues over the course of the autumn season, your yard is likely now littered with brown leaves. Before you get your yard ready for the cold winter months, rake and discard the natural debris. You can even let your kids have one last hoorah of jumping in a leaf pile before they're busy building snowmen!
2. Mow: Because the fall was pretty mild, you may need to trim your yard one final time before saying goodbye to your lawn mower for the next few months. To prepare for winter, give your yard a low cut, while taking care not to over-cut and stress your grass.
3. Aerate: There are three ways you can accomplish this sometimes-tedious task. Use a handheld tool; invest in a gas-powered core aerator; or, enlist the help of a landscaping company! ;) Choose the method that is best for you and then get to work! Poke tiny holes into your lawn to allow proper drainage during winter
4. Fertilize: Once you've aerated your yard, some homeowners may want to fill those tiny holes with sand to allow water and air to filter through; though, some experts say that step is simply not necessary. Instead, give your lawn a little extra TLC by topdressing it with extra soil and fertilizer. Here, experts suggest getting your soil tested to find the perfect mix!
5. Seed: Now, you're almost there! To give your yard a final farewell into the winter season, spread some fresh seed. Of course, you'll want to pay extra attention to any areas where grass may be sparse, but you'll do no damage by showing the entire yard some love here. Though cold weather may be upon us, be sure to nurture the new seed by watering until you see some sprouting.
Once you've completed these five steps, your yard should be prepped and ready for a little hibernation, whether it is covered by snow or simply that giant inflatable snowman that it is time to put up!