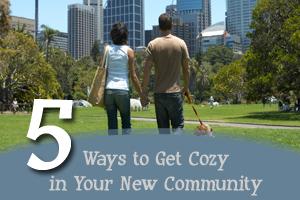 5 Ways to Get Cozy in Your New Community
Sometimes life flips our whole world around. Maybe a job has you moving to a brand new city or perhaps an appealing school district has you buying a new home on the other side of the city. Regardless of the reasoning, relocating to a new community can be tough.
Embrace this change by taking some time to get to know the neighborhood and your new neighbors! Below are a few things you can do to get acquitted in your new community.
1. Take a Walk
Put on your best walking shoes and take a scroll beyond the cul-de-sac. Not only will you get a closer look at your new surroundings, you may even bump into a neighbor. If you see a fellow neighbor out walking or washing their car, be sure to introduce yourself. Don't know how to break the ice? Try asking them if they know of any good walking trails, parks, restaurants, grocery stores or hair salons. This is sure to spark up a conversation!
2. Fit in Fitness
Joining a fitness center can be a great way to meet people in your neighborhood. If the gym's not your thing, keep an eye out for group classes, such as Yoga, Zumba, or Pilates, that may be held at a local school, park, church or fire hall. Some communities even have recreational sports leagues that you can join. These leagues can usually place you on a team to play sports such as volleyball, soccer, dodgeball, kickball, softball and bowling.
3. Lend a Hand
Nearly every community needs volunteers! Whether it's for a local charity, food bank or animal shelter, your help is likely to be needed and appreciated. By volunteering, you will be helping your new community while meeting new people. It's a win-win situation for everyone!
4. Join a Group
Love to hike? Want to learn to cook? Join a group with people who love the same things you do! Meetup.com is a great way to find groups and clubs in your area for anything from wine tasting to vegan cooking to photography to reading to writing… the list goes on and on. If you have children, look for activities that they may enjoy, such as dance, gymnastics, baseball, karate, etc; this could be a great way to meet other parents in the area.

5. Ask Your Realtor
Every community is different, so who better to ask than your real estate agent! Your agent is likely to know of any popular activities or hang-outs nearby your new home and, perhaps, even introduce you to a few of your neighbors.
Moving to a new neighborhood in Pittsburgh or Southwestern Pennsylvania? Check out our local area guides.