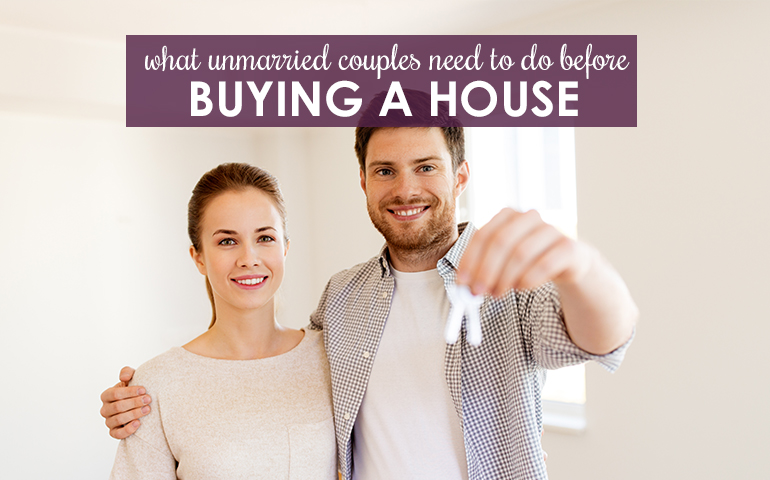 Five Must-Dos for Unmarried Couples Who Want to Buy a Home Together
With June's arrival, summer wedding season will be in full swing. But, today, more and more couples are foregoing their nuptials and taking a financial leap into mortgage matrimony. It is becoming more popular for couples to buy a home before tying the knot.

If a legally binding mortgage sounds more appealing than a legally binding marriage for you and your partner, you'll need to be prepared. Here are five things unmarried couples need to do before buying a house together:

1. Get intimate about your finances.
If you're in a serious relationship, it is likely that you've already discussed some aspects of your financial situation. When you're planning to buy a home together, you've got to take that conversation to the next level. In addition to knowing how much money each partner has coming in and going out, it also is important to know—and possibly work to improve—your credit scores. When you're applying for a mortgage together, every aspect of your finances can come to light. Have the financial conversation with your partner before any surprises reveal themselves during the mortgage pre-approval process.

2. Save together.
While we're on the topic of your finances, when you're buying a home together, it may be beneficial to establish a joint bank account. This way, each partner can contribute to necessities like your mortgage, insurance, homeowner association fees, utilities, repairs and any other costs that accompany home ownership. With a joint account, there will be no arguing about who is contributing—the proof will be in the account!

3. Cozy up to a prenup.
No, we're still not talking about marriage here. But, unmarried couples who want to buy a home together should establish some sort of ownership agreement up front—before even beginning their home search. You may not want to talk about the ever-so-unlikely prospects that you may not always be together, but in the event that you and your partner break up, you'll want to have written proof of where your belongings… well, belong. Seek out a professional to make sure you cover all the bases in a legal document before you buy.

4. Put the right title on things.
You don't have to have a specific title on your relationship, but you do have some options when it comes to putting a title on your home. You can decide on sole ownership, where only one partner's name is included on the deed. You can opt for a joint partnership, where each partner owns half of the home. You can also become tenants in common, which would allow for unequal ownership. Our advice? Whichever way you choose to title the deed, make sure you both clearly agree to the terms.

5. Remember that your relationship (and your mortgage) belong to you.
Of course, taking advice from experienced family members or friends can be a great thing. When you're buying a home, people are sure to want to share their tips with you. But, at the end of the day, it is important to remember that your home-buying decisions, from the number of bedrooms to the type of title, belong to two people… you and your partner. Keeping that in mind throughout your buying process could be paramount to your successful home purchase!

This post is sponsored by PA Preferred Mortgage:
Pennsylvania Preferred Mortgage is a full-service mortgage banker and is a member of the Prosperity Home Mortgage, LLC family. Specializing in residential and refinance loans, Pennsylvania Preferred Mortgage offers a wide range of mortgage products, including fixed and adjustable rate mortgages, jumbo loans, Federal Housing Administration (FHA) and Veterans Affairs (VA) loans, and renovation financing. Learn more at www.papreferredmortgage.com.