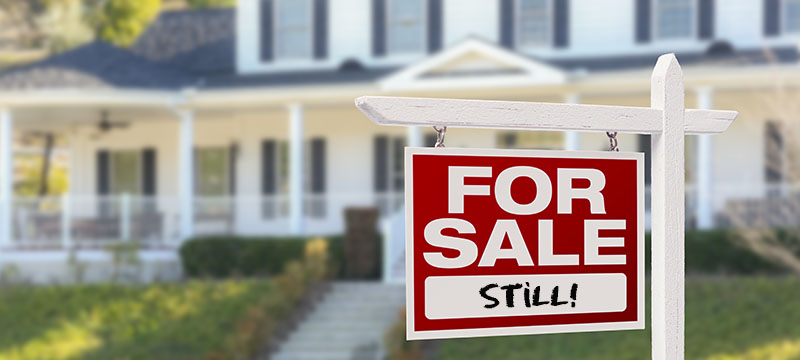 5 Seller Sins that May Prevent Your House from Selling!
Spring and summer are often some of the best times to sell a home; so, if you've listed your home on the market or you're preparing to do so, it should be selling in no time, right? Well... we wish that were always the case.
Unfortunately, sometimes sellers can be their own worst enemies when it comes to closing a real estate deal. There are a few things that you just shouldn't do when you're trying to sell your home.
Here are five of the biggest reasons that for-sale homes remain stagnant, even under the best market conditions:
Your Price is Wrong
Pricing a home can be difficult, particularly because sellers often feel that their home is worth a certain amount. But, it is important to remember that buyers are comparing your home to others in the area. You need to consider what they are selling for and how your home compares to what they've got to offer.
A real estate agent will gladly provide a comparative market analysis for you, so that you can set your home's selling price right from the start. Your first few days on the market are crucial, so you've got to set the right price from the get-go.
You're Not Reaching Prospective Buyers
Of course, most of today's buyers are beginning their home searches online. You've heard of Zillow, Trulia and Realtor.com; go ahead, look up your home there. Can you easily find it? Do you think prospective buyers can? Having your home listed on the multiple listing service (MLS) is also a great key for selling success. This real estate database is the first place that a buyer's agent will point them when looking for available homes.
But, also remember that old-school buyers may still prefer those traditional methods in their home searches. Make sure a contact number on your "for sale" sign is a prominent part of your curb appeal while your home is on the market.
Your Selfies Look Better than Your Listing Photos
OK – so, maybe prospective buyers can find your home online, but they just don't like what they see when they get there. Your home may be beautiful inside and out, but if you can't showcase that in your listing photos, a buyer may never take the time to see for themselves.
What do good listing photos look like? Let's see… they're well-lit, de-cluttered, high quality and there are lots of them. Your well-worded description can do only so much; but, those picturesque image will entice buyers all the way to your doorstep.
Your Piece of Art is a Piece of Work
Maybe you never planned on leaving your "forever home," but work or other life circumstances are causing you to move. At least, that's the reason you're giving for turning your formal dining room into a child's playroom. It may sound odd, but buyers want to see your home the way that they would like to use it. Then, they don't have to envision the work they'll put in to making it their own. Less work for them is a big win for you!
For the sake of selling, find another place to stash your children's toys (they probably rarely play with most of them anyways) and stage your formal dining room the way it was intended. Typically, you can buy or rent appropriate furniture relatively inexpensively. After all, the ROI when you sell should more than make up for that minor staging cost.
You Don't Understand the Definition of Curb Appeal
The right price… check. Adequate marketing… check. Great listing photos… check. Well-staged home… check. What else could possibly be preventing your home from selling? Or, even showing for that matter? Are you giving buyers what they want to see when they drive by your home? Have you kept your lawn routinely mowed? Swept sidewalks? Trimmed hedges? Watered your flowers? Are your mailbox and house number clearly visible? Is your front stoop well-lit and welcoming?
Frankly, you don't have to have the most expensive and intricate landscaping plan to entice a buyer toward your home. But, you'd better believe that not taking care of what's out front will scare buyers away from ever checking out what's inside. While your home is on the market (and even when it's not), you've got to take some pride in your curb appeal!
If you've checked off every item on our list, but are still having a hard time selling your home this summer, contact an experienced Berkshire Hathaway HomeServices The Preferred Realty agent today for some help!