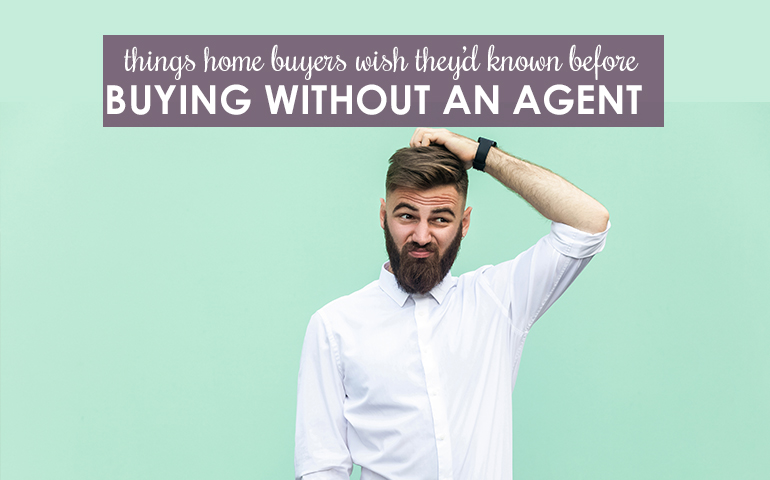 5 Things Buyers Should Know Before Buying a Home Without an Agent
When it comes to real estate, you've probably heard of homes being listed as "for sale by owner." This is when a home is put up for sale by its owners, without the help of a real estate agent. Similarly, it is possible to buy a home without the help of a professional real estate agent.

It is possible, but not necessarily easy. Though some buyers are able to find a home, make an offer, negotiate and do everything needed to go to closing, there are some things they may want to know before attempting this venture alone.

Here are five things home buyers should know before buying a home without a real estate agent:

1. You may be volunteering for an extensive research assignment.
It pretty much goes without saying that a real estate agent is going to have more knowledge about the home-buying process than the average homebuyer. After all, helping people buy and sell homes is what an agent does for a living. So, if you decide to go it alone, you'll have to get some of that knowledge before navigating the market.
Count on researching information about neighborhoods, home prices, inspections, contingencies, mortgages, the closing process—and probably a whole lot more. If you don't plan to use a real estate agent, these duties fall on you.

2. Sellers may not take you seriously if you do not have an agent.
When a real estate agent reaches out to another agent to let them know a buyer is interested in a home they have listed, it is a pretty safe bet that they're a real lead. However, when a buyer, who may truly be interested in a home, but is not represented by a trusted agent, calls to show interest, agents and sellers could be a bit skeptical. To combat this fear, buyers should be ready and willing to prove they're qualified to buy the home—a preapproval letter from a lender could be helpful here.

3. The seller's agent may keep all of the commission.
A major reason that buyers may want to purchase a home without a real estate agent is to save on real estate commission fees. However, if a seller has negotiated a certain percentage of commission with their own agent, the portion that would typically go to a buyer's agent, may fall directly to the seller's agent. So, whether you're being represented by a real estate agent or not, you could be paying a realtor's fees. The only way to "save" here is to convince a seller to drop the sales price to compensate for the buyer's agent portion of the fee.

4. You'll need to know how to negotiate like a pro.
While you're trying to convince a seller to drop the price of a home because you do not have a real estate agent, you may also want to ask for any other things you would like included in the sale. When you buy a home without a real estate agent, the bargaining is up to you. Want a lower price? Closing costs included? Even a piece or two of the seller's furniture? Without a real estate agent, you'll have to do all of the convincing.

5. You may still want to hire an attorney.
Although buyers may want to try to save on realtor fees, they may face a hard reality when it comes to the mounds of paperwork that accompany a home sale. When you're dealing with things like contingencies or issues that may arise during a home inspection, it can be helpful to hire a real estate lawyer to explain some of the fine print. Fees may be minimal when you hire a real estate attorney, but the peace of mind you receive could be priceless.

Want to buy a home, but know that you'll need the professional help of a trusted real estate agent? Contact an agent at Berkshire Hathaway HomeServices The Preferred Realty today.