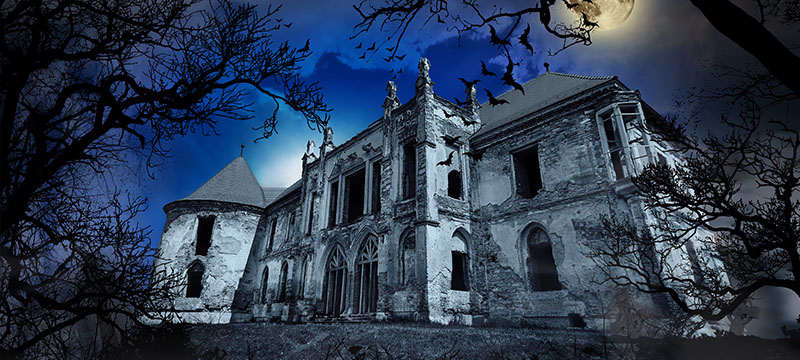 Five Frighteningly-Fantastic "Haunted Houses" in the 'Burgh
When it comes to Pittsburgh real estate, we pride ourselves on knowing the best of what's available in and around the city; so, when it comes to Halloween and the best of the best "haunted" homes, you can bet that we're on top of that prime realty, too!
With Halloween quickly creeping up on us, this weekend marks your final chance to satisfy your thrill-seeking sensations by visiting some of the Pittsburgh region's best haunted houses.
Here are five of our frighteningly-fun favorite haunted houses in and around the city of Pittsburgh:
1. ScareHouse: ScareHouse not only ranks as one of Pittsburgh's best haunted happenings, but it's one the nation's best, too, lauded by the likes of ABC's Good Morning America, the USA TODAY, BuzzFeed and more. Located in a historically-haunted home in Pittsburgh's Etna suburb, the building itself holds scary secrets to haunt visitors this Halloween season. On top of that built-in mystery, ScareHouse includes three new sinister haunts for 2016!
2. Hundred Acres Manor: For 13 years, this nationally-ranked haunted happening has been delivering terrifying thrills to those brave enough to venture through the over one-mile-long attraction. It is located in Pittsburgh's Bethel Park suburb and includes a total of six different devilish attractions. Interested in seeing some terribly-thrilling renovations? Hundred Acres Manor now offers horror-themed escape rooms!
3. Demon House: This harrowing piece of real estate is located less than 30 miles south of Pittsburgh in Monongahela, Pennsylvania. According to legend, the incredible McCue Mansion holds many deep, dark secrets and layers of lost souls. Before even stepping inside the Demon House, the haunted grounds creepily call in guests with campfires, horror films and the sounds of screaming souls!
4. The West Deer Nightmare: From legendary secrets to serial killers, the West Deer Nightmare is another Pittsburgh haunted attraction that is sure to shake you to the core! Depicting the 1952 West Deer Nightmare Massacre at the haunted Bairdford Park in West Deer Township just north of Pittsburgh, this terrifying attraction promises to deliver the story of Noah Hobbs with nothing but fear.
5. Fright Farm: About 60 miles south of the city lies one more horrifically haunted experience that is simply too frightening to forget! Fright Farm in Smithfield, Pennsylvania has been leaving visitors scarily-satisfied for nearly 30 years! The Frightmare Mansion at Rich Farms is now just one of five haunted attractions that invites terror enthusiasts to feel the fear at Fright Farm!
If it's horror that you're stalking this Halloween season, Pittsburgh's haunted houses and attractions are sure to give you the bone-chilling nightmares you crave! Visit one or all of these frightening pieces of real estate… before it's too late!