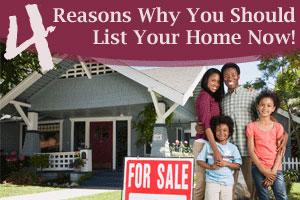 4 Reasons Why You Should Sell Your Home NOW!
With a low supply versus a high demand ratio, the current real estate market in Pittsburgh and Southwestern PA has put the seller in the driver's seat. This might not be the case for long, so if you plan on selling your home "eventually," consider doing it soon.
Below are four reasons why the next few months (or maybe weeks!) will be the best time to list your home this year.
1. Pittsburgh's Housing Market is Up
From homes under agreement to average sales price, the housing marketing in Pittsburgh is on the rise. Ron Croushore, CEO of Prudential Preferred Realty, states, "We should expect to see the demand for houses in Southwestern Pennsylvania continue to grow as we head into the spring. As long as listings meet this demand, the housing market in our area will flourish."
With businesses and big time investors taking interest in Pittsburgh and the growth of its art and cultural districts, it is no wonder why people want to live here. We predict that Pittsburgh will continue to receive great national press and become one of the most desired cities to call home.
2. More Home Buyers, Less Homes for Sale
As the housing market continues to increase, the inventory level has begun to decrease. In fact, the current inventory level in the US hasn't been this low since 2005. This is good news for sellers, as they are likely to find a greater number of serious buyers interested in their home. Yet, this won't be the trend for long – oftentimes inventory levels increase in the spring. Listing your home before the winter weather breaks could help your home receive more attention.
3. Interest Rates are Low… For Now
Mortgage rates continue to be quite low at the moment; however, mortgage lenders and finance professionals expect that they will gradually increase throughout 2013. According to Fox Business, Co-Director of the Center for Economic and Policy Research, Dean Baker, predicts that mortgage interest rates will reach 3.8% by the end of 2013. With that in mind, sellers will want to buy in early 2013 to secure a lower rate.
4. New Construction Competition
As we move further in 2013, it is projected that a demand for new construction will grow. Over the past few years, the dip in the economy took its toll on new construction; however, as the economy strengthens, an increasing number of home buyers are predicted to spend more on customized new construction rather than buying older homes.
Ready to learn more? Contact your Prudential Preferred Real Estate Agent or click here to take our agent compatibility test.